Outpatient Surgery & Imaging Services (OSIS)
Where we are
Where to park on the day of surgery:
OSIS- Outpatient Surgery and Imaging Services
1213 University Blvd NE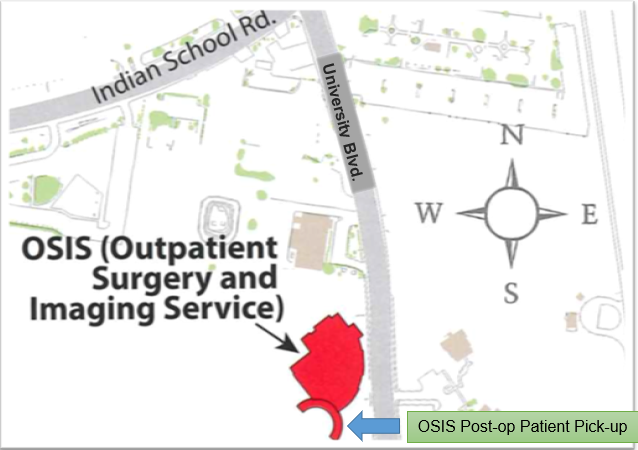 What to Expect On Your Surgery Day:
Your safety is of the utmost concern to us.  Having surgery can be stressful enough.  We want to assure you we are taking several precautions during the Coronavirus pandemic.
Maintaining strict social distancing of 6 feet or more.
Disinfection of all areas
All staff and providers will be wearing a mask- at all times
You will be given a mask upon arrival to our Pre-Operative area
As an added precaution every patient having surgery is tested for COVID-19 before they come to surgery
We have adequate personal protective equipment for you and our staff
Please feel free to share any comments or feedback about our efforts to keep you safe.  We want to learn from you experience to provide excellent patient care.  Our highly trained staff look forward to seeing you on your day of surgery.
We are confident you are going to have an excellent experience.
On the day of your surgery, go in the main entrance to the OSIS lobby. You will see an electronic ticket machine where you will get a ticket. Please choose SURGERY at the machine.  After you get a ticket, you may have a seat.  We will call your number, and our number will also show on the TV screen.  When it is your turn, we will ask you to go to the check in desk number 5 to register for surgery
You must have someone drive you home after surgery.
You will not be allowed to drive, ride a bike, take a taxi or bus to get home.
Your surgery will be rescheduled if you do not have a ride home.
You must have someone to stay home with you for 24 hours after surgery.
Do not eat any food including gum and mints after midnight the night before your surgery.
Do not drink alcohol, smoke or take any illegal drugs for 24 hours. before surgery.
Do not shave the surgical area for two days before surgery.
Do not use any hair products like hair spray, gel, or mousse.
Do not wear any lotion, oil, cologne, perfume, make-up, or colored nail polish.
Do not wear any jewelry or any body piercings.
Do not wear contact lenses. Bring a case for glasses.
Do not bring anything valuable with you. We are not responsible for any valuables.
Do wear loose clean clothes and sturdy shoes that are easy to walk in.
Do shower with Hibiclens soap the night before and the morning of surgery. Do not use Hibiclens on your head, face or private areas.
Do brush your teeth and rinse your mouth.
Do drink clear liquids up to 2 hours before you arrive at the hospital (water, clear fruit juice with out pulp, carbonated drinks, clear tea, black coffee without milk or cream.
If you are sick or cannot keep your surgery date, call your surgeon's clinic.
Before to going in to the operating room
Safety protocols are followed by all staff taking care of you and you may be asked to provide your name, date of birth, and procedure you are here for many different times to ensure we provide the appropriate services for you. It is a double or triple check for your safety.
If you are female between 13-60 years old, please do not use the restroom in the waiting room. You will be required to give a urine sample before you can be taken to surgery.  Please notify the front desk staff if you need to use the bathroom immediately.
If you are having EYE or Hand surgery, the person providing your transportation is requested not to leave the immediate area of the facility as your procedure and recovery time is very short.
For all other surgeries, the person providing your transportation must be able to return to our facility within 15 minutes of being called by the recovery room nurse. For pediatric patients, a parent or guardian MUST stay in the building at all times.
Please choose one person who has your permission to receive medical information about you today
Only one person may be allowed to stay with you in the pre-op area before surgery; as needed for assistance if required.
Two parents can be allowed for pediatric patients.
For their safety, no visitors under the age of 14 will be allowed to enter the Pre-Operative or recovery areas.
The time in the recovery area will vary based on the type of anesthesia used. Regional pain blocks provide numbness to extremities so we are able to get your pain controlled and assist you to your home quickly to rest and recover in your own familiar environment.
Only one family member/care taker will be allowed in the recovery room for adult patients. Two family members will be allowed for pediatric and special needs patients. 
You will be notified by the recovery room nurse when your loved one is ready to receive a visitor.
The patient pick-up "round-about" is located on the East side of our building. Please look for the sign "Post-OP patient Pick-Up"
You will be notified by recovery room staff when your loved one is ready to be picked up. Please do not move your vehicle to this area until you are asked to do so.
Frequently Asked Questions
Outpatient Surgery and Imaging Service
1213 University Blvd NE