Manage Your MS Symptoms
Get Life-Long Support and Treatment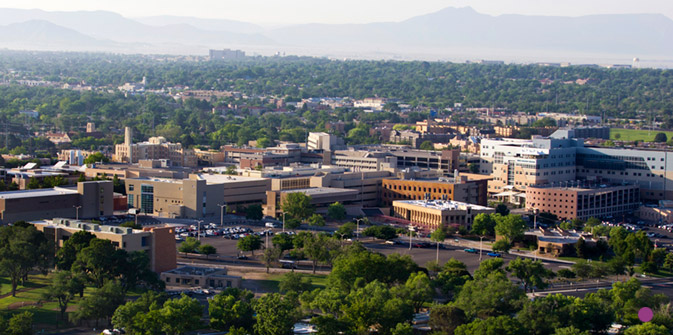 Multiple Sclerosis Clinic
Come to the only specialized multiple sclerosis (MS) clinic in New Mexico. Get diagnostic consultation and expert treatment for your MS. Your care team will work with you to identify the best disease modifying treatment for your situation and help manage your symptoms long term, so you can enjoy the most productive, fulfilling life possible.
Make an Appointment
To schedule an appointment with a UNM Health provider, call 505-272-4866. 
Diagnosing Multiple Sclerosis
Ask your primary care doctor for a referral to the MS clinic if you experience symptoms such as:
Bowel or bladder issues
Dizziness or trouble balancing
Fatigue or weakness
Numbness or tingling
Stiffness and involuntary muscle spasms, especially in the legs
Vision problems
Walking difficulties
Your UNM Health team may perform neurological exams, conduct imaging tests and check for other markers of multiple sclerosis. Doctors will review your medical history and may request blood tests to rule out conditions other than multiple sclerosis.
Treating Multiple Sclerosis
If you receive a diagnosis of multiple sclerosis, you'll work with neurologists, therapists, nurses and pharmacists to develop a personalized treatment plan. We offer:
Disease-specific medications to reduce symptoms, shorten flare-ups, prevent relapses and slow the disease's progression
Rehabilitation, which increases energy, mobility, communication abilities and skills needed for everyday life
Integrative medicine, which includes massage, acupuncture, meditation and more to relieve stress and discomfort
Pain management, including medications, injections, behavioral health care and other approaches that can make you feel more comfortable
Clinical trials that provide opportunities to receive promising new tests or treatments not yet widely available. Call 505-272-5681 for more information.
Start treatment as soon as possible to improve your long-term outcome. After your first visit to the clinic, we will help you schedule follow-up appointments for you and your caregivers so they can help follow your response to treatment and notice any potential side effects.
Coordinating Your Care 
To get care at UNM Health's multiple sclerosis clinic, ask your primary care provider or general neurologist to fax a referral form to 505-272-9427. We'll help you schedule an appointment after we receive the referral.

If you experience an urgent health problem related to MS that occurs during business hours, call 505-272-0760. Outside of business hours, call 505-272-2111 and ask to speak to a neurologist. For all emergencies, call 911.
For help getting prior authorization from your insurance provider for treatment, call 505-272-5230. You remain responsible for paying for medications or procedures.
If you're applying for disability benefits, ask the MS clinic to provide a letter explaining your diagnosis. Talk to your primary care provider or a disability evaluation specialist to schedule a disability assessment.
For prescription refills at a pharmacy outside UNM Health, ask the pharmacy to fax a refill request to 505-272-8196.