Regain Your Independence 
Get Expert Rehab After a Stroke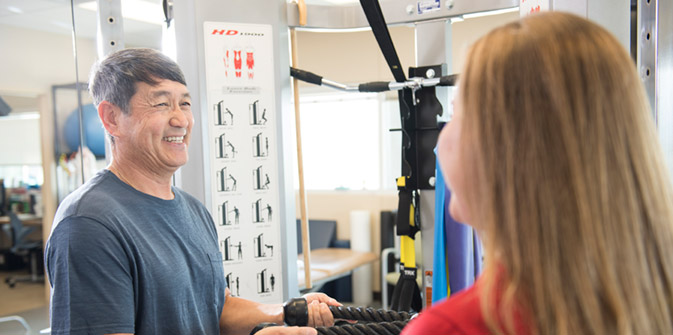 Stroke Recovery & Follow-Up Care
Get advanced stroke care rehabilitation and follow-up care at UNM Hospital. Our experts will help you improve your motor skills and independence.

Rehab begins before you leave the hospital—we typically introduce physical therapy within 48 hours after a stroke. As the first Advanced Stroke Center in New Mexico, UNM experts offer the expertise and resources to manage your rehabilitation needs:
Rehabilitation Options
Every stroke patient has different needs. Our team of doctors and therapists will meet with you to recommend a customized treatment plan. UNM social workers will help coordinate your ongoing care at one of these facilities:
Home-based rehab is in-home, short-term care. This may be an option if you need simple therapy and cannot travel for outpatient rehabilitation.
Outpatient rehab allows you to live at home and travel to the facility for therapy during the day several times a week.
Rehabilitation hospitals offer short-term rehab. You likely will get therapy for three to five hours per day. There are many types of therapy and staff available.
Skilled nursing rehab includes some nursing homes that provide about an hour and a half of therapy per day during a short- or long-term stay. Your team may recommend this option if you are not yet strong enough for longer therapy sessions.
Stroke rehabilitation takes time and varies depending on your needs and abilities. Recovery can take weeks, months or years. 
Community Support & Resources 
 Gain support for the challenges of living with a brain injury by contacting these national and local stroke groups:
Manage Risk Factors
Prevent another stroke. Know risk factors and how you can prevent them.