Leaders in Robotic Surgery 
Get the Best Minimally Invasive Care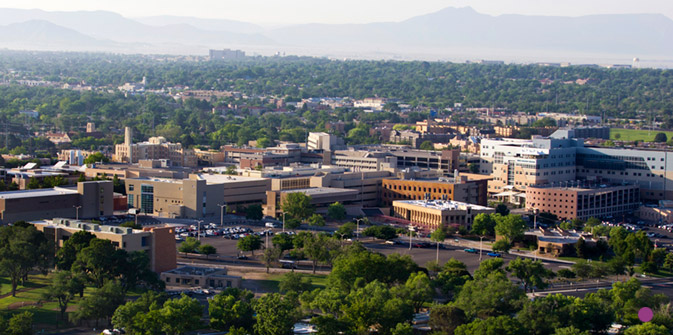 Robotic Surgery
Get high-tech precision surgery at UNM Health. We were the first New Mexico hospital to use the da Vinci Surgical System to provide minimally invasive, accurate procedures. Our robotic surgery program is the longest running with the state's most experienced surgeons.
The da Vinci surgical robot offers our surgeons a high-definition, 3-D view inside the body. The surgeon is in control of the system's advanced instruments and miniature camera through the entire procedure.
Benefits of Robotic Surgery
Patients choose robotic over traditional surgery for its many benefits, including:
Faster recovery
Less pain
Less scarring
Reduced blood loss
Shorter hospital stays
We offer robotic surgery for prostate and gynecological problems, including pelvic organ prolapse.
Make an Appointment
Schedule an appointment with a UNM Health provider or surgeon to discuss your options. Call 505-272-4866.
Robotic Prostatectomy 
We use robot-assisted laparoscopic radical prostatectomy to treat prostate cancer. A surgeon creates five-to-six keyhole-sized incisions in the lower abdomen. We use carbon dioxide gas to "insufflate" (or fill up) the abdomen to provide a working environment inside the body, reducing blood loss that is often seen with traditional surgery.

A special robotic video camera and miniature instruments are placed inside the body through the keyhole incisions. Your surgeon controls all aspects of the robot from a special console inside the operating room.

The surgeon removes the prostate, then reconstructs the urinary tract with delicate sutures by bringing the bladder down to the urethra. A Foley catheter is left in place to allow the connection to heal properly. 
Robotic Sacrocolpopexy
Robotic sacrocolpopexy is the gold standard treatment for pelvic organ prolapse. Prolapse occurs when the bladder, bowel or uterus fall to or through the vagina, causing pressure, pain and incontinence. Pelvic organ prolapse affects up to 40% of women.

In this procedure, the surgeon makes small five to six keyhole incisions instead of one larger incision. Through these small incisions, the surgeon reattaches the vagina and pelvic organs to the sacrum with a graft or netting material. This approach offers decreased pain, faster recovery and reduced blood loss. Our surgeons were the first in New Mexico to perform this procedure.