New Mexico's Best Neuromuscular Care
Visit the ALS & MDA Clinics at UNM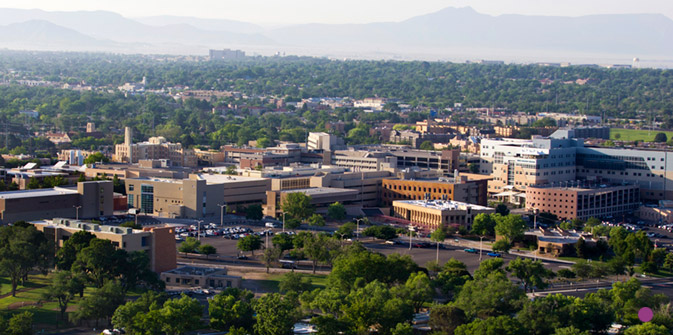 Neuromuscular Program
UNM Health's dedicated neuromuscular program serves patients throughout New Mexico. Our team uses state-of-the-art technology to diagnose, manage and care for patients with peripheral nerve, muscle and neuromuscular disorders.
Located within the Clinical Neurosciences Center at UNM Hospital, our program is home to:
Muscular Dystrophy Association Clinic
Our MDA clinic cares for patients throughout New Mexico and bordering regions. We work closely with the local MDA chapter to provide quality care and services for people living with neuromuscular disorders such as:
Congenital myopathies
Hereditary neuropathies
Inflammatory myopathies
Motor neuron disorders
Muscular dystrophies
Myasthenia gravis
We are developing a transitional clinic for individuals moving from pediatric to adult care. Our expert MDA team includes a neurologist, physical therapist, nurse coordinator and social worker.
ALS Clinic
UNM Health's ALS clinic is sponsored both by the ALS Association and the MDA. We work closely with both foundations, which allows us to hold multidisciplinary clinics. Patients come from all over the Southwest to be treated for ALS (Lou Gehrig's disease) and other motor neuron diseases, such as Primary lateral sclerosis (PLS).
Our team includes neurologists, a physical therapist, occupational therapist, speech therapist, dietitian, respiratory therapist and social worker. For more information you may contact either the local ALS chapter or the local MDA chapter.
Electromyography Lab
Doctors certified in electrodiagnostic and neuromuscular medicine staff he EMG lab. They use state-of-the-art equipment for nerve conduction studies and EMG tests. These technologies give patients precise diagnoses of peripheral nerve, neuromuscular junction and muscle diseases.
Neuropathy Lab
Our neuromuscular team works closely with the neuropathologist to interpret muscle and nerve biopsies, which aid in the diagnosis of neuromuscular diseases. Our doctors meet regularly with the neuropathologist to review cases and facilitate diagnoses.
Make an Appointment
To schedule an appointment at a neuromuscular clinic, call 505-272-3160.