Healthier Lungs Await You
Less Invasive Treatment, High-Quality Care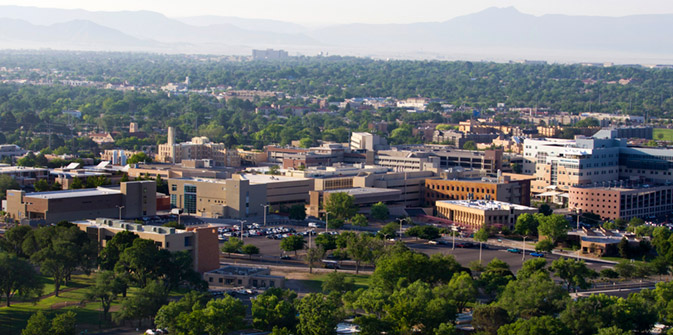 Interventional Pulmonary & Advanced Diagnostics
Schedule an appointment with a UNM respiratory provider. Our team specializes in minimally invasive diagnostic and therapeutic procedures. We treat patients with airway disorders, pleural diseases and cancer.  
Minimally Invasive Treatments
We offer a multidisciplinary approach for our patients at both UNM Hospital and the UNM Comprehensive Cancer Center. Our skilled physicians are trained in advanced bronchoscopy procedures, including flexible and rigid bronchoscopy.
Flexible Bronchoscopy
Bronchoscopies allow your doctors to view your lungs and airways. We insert a flexible scope with a camera and light through your nose or mouth and down into your lungs. This is used to diagnose and treat lung diseases such as chronic cough, bleeding in the airway or foreign body aspiration. The procedure is performed under conscious sedation and general anesthesia.
Rigid Bronchoscopy
Performed by our expertly trained pulmonary specialists, this procedure uses hollow metal rods, instead of a flexible scope. This procedure is used to treat complex airway diseases and central tumors. The rigid bronchoscopy is used as a dilating and cutting tool with the ability to detect a bleeding area in the airway. The procedure is performed with a highly specialized anesthesia team.

Download bronchoscopy pre-procedure information [PDF] or pleural pre-procedure information [PDF].
We also perform these advanced services:  
Meet Our Team
Our multidisciplinary team includes nurses, respiratory therapists, physician assistants and doctors with specialized training in interventional pulmonology.
Support Pulmonary Education
Generous donations to the UNM School of Medicine help us educate the next generation of interventional pulmonologists. 
Pulmonary Diagnostic Laboratory & Bronchoscopy Suite
UNM Hospital
Fourth Floor
2211 Lomas Blvd NE
Albuquerque, NM 87106 
Interventional Pulmonary and Advanced Diagnostics Clinic
UNM Hospital
Fifth Floor, Clinic B
2211 Lomas Blvd NE
Albuquerque, NM 87106 
Interventional Pulmonary and Nodule Clinic
UNM Comprehensive Cancer Center
Third Floor
1201 Camino de Salud NE
Albuquerque, NM 87106