Relief for Chronic Back Pain
Find Out Whether Surgery Can Help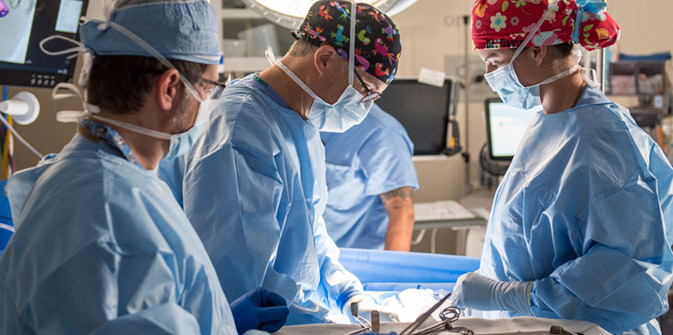 Spine Surgery
When back pain prevents you from living the life you want, come to UNM Health. We are New Mexico's only provider of minimally invasive, endoscopic spine surgery.
Spinal surgery can relieve you of chronic pain, improve your mobility and help you regain independence. Your surgeon will always try to be as minimally invasive as possible. That means you may benefit from faster recovery, less pain and scarring and a shorter hospital stay.
Conditions we treat include:
Degenerative disc disease
Herniated discs
Radiculopathies (nerve root disorders)
Spinal stenosis
Spine and spinal cord injuries
Spondylolisthesis
Spondylosis (spine degeneration)
Endoscopic Laser Spine Surgery
Our neurosurgeons are experienced at performing endoscopically guided laser spine surgery. This advanced technique uses tools that are 1/20th the size of tools used in conventional back surgery. That means you need smaller incisions and may experience less risk of complications.

You'll find endoscopically guided laser spine surgery at only a few hospitals in the country, including the Anthony T. & Eileen K. Yeung Center for Endoscopic Spine Surgery at UNM Sandoval Regional Medical Center.
Ask for a Referral
You'll need a physician's referral and a recent MRI or other imaging test results (obtained within the past 12 months) to schedule a consultation with a UNM Health neurosurgeon. To make an appointment, call 505-994-7397. 
Comprehensive Pain Management
Schedule an appointment with a UNM Health provider to determine the cause of your back pain. We will start with conservative treatments, such as rehabilitative exercises and nerve blocks. If those do not relieve your pain, your doctor may refer you to surgery.
Types of Spine Surgeries
Find the full range of spine surgeries at UNM Health, including:
Cervical (neck) and lumbar (lower back) disc replacement – Replaces a problematic disc with an artificial one
Cervical (neck) and lumbar (lower back) rhizotomy – Eliminates nerve roots to relieve pain and muscle spasms
Discectomy – Removes part or all of a disc
Spinal fusion – Fuses together two or more vertebrae
Spine decompression – Relieves pressure on your spinal cord and nerves
Spine reconstruction – Corrects the alignment of your spine
Stereotactic radiosurgery – Uses focused, high-dose beams of radiation to destroy tissue without making any incisions