Monitor Your Breast Health
Get Preventative and Curative Care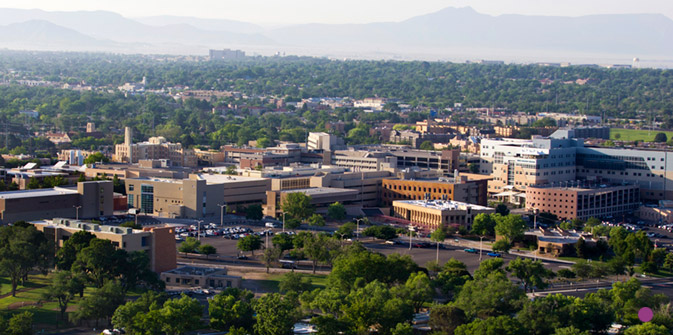 Breast Health
Come to UNM for all your breast health needs. Our team specializes in comprehensive care—from prevention and testing to diagnosis and treatment of benign and cancerous breast conditions.
Get all the services you need close to home, including high-tech screening and advanced surgery, at our Albuquerque and Rio Rancho locations.
UNM is your one stop shop for compassionate, expert breast care. Schedule an appointment for a routine exam, or diagnostic test. You're in good hands here.
Conditions
Schedule an appointment to discuss any of the following:
Abnormalities that are present at birth or appear during puberty
Breast infections
Breast lumps
Enlarged axillary lymph nodes (glands in the armpits)
Gynecomastia, or overgrowth of breast tissue in men
Breast implant problems
Skin lesions
Make an Appointment 
To schedule an appointment, call us at 505-272-2245. 
Mammograms
Mammograms use low-dose X-rays to help find potential breast problems, including breast cancer. Most often you'll get this test as a preventive screening, which checks for issues before you experience symptoms. However, doctors may also use mammograms to diagnose your condition if you already have symptoms, such as a lump in the breast.
As per the American Cancer Society recommendations, we encourage women over the age of 45 to get mammograms every year. Women aged 40-44, or those who are at a higher risk, should talk to their doctors about annual screening.
At UNM Health you can also ask for 3D mammography. This test takes very detailed images from multiple angles to help improve the accuracy of results, especially in women who've been told they have dense breasts.
To learn what to expect from mammography, download our brochure in English, Spanish or Vietnamese.
Schedule a Mammogram
To schedule a mammogram, please call us at 505-272-4545
Breast Cancer Care and Treatment    
If you need surgery, you'll get expert treatment from our board-certified, fellowship-trained surgeons who specialize in breast cancer care.
UNM Health offers the most advanced treatments. We consult regularly with our larger team to get multiple opinions on complex cancer treatment plans. Treatments we offer include:
Brachytherapy – Places tiny, radioactive pellets in your breast temporarily after a lumpectomy to kill any remaining cancer cells.
Genetic counseling and testing – Helps identify your odds of developing breast cancer, especially if you have a family history of cancer, so you can take steps to reduce your risk.
Lumpectomy – Removes cancerous tissue from the breast.
Nipple- or skin-sparing mastectomy – Removes the entire breast except for the skin and sometimes the nipple and areola.
Reconstructive surgery – Restores your appearance after a mastectomy and can take place immediately after the breast is removed.
Sentinel node biopsy – Removes your first lymph node to check it for cancer.
Want more information?
To learn more about breast surgery, please call 505-994-7364