Unique Care for Unique Women 
Gynecological Care for Every Age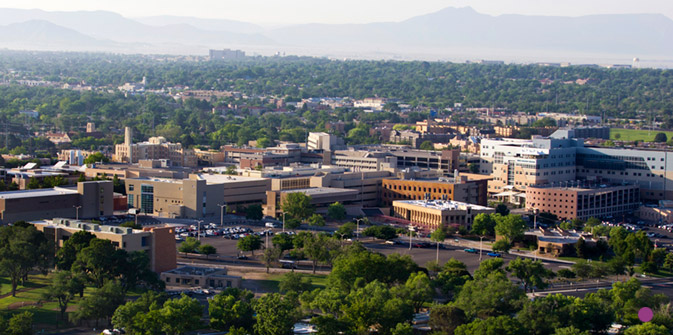 Gynecology
Get compassionate, expert gynecological care at UNM Health. Our providers help women stay well throughout life's changes, from young adulthood through menopause and beyond.
UNM is the only academic health center in New Mexico. We use state-of-the-art technology and advanced testing to manage even the most complex health conditions. Here, you will get the best care and the respect and dignity all women deserve.
Visit us for well-woman exams, birth control or treatment of a gynecological condition. Find a gynecologist near you.
Prevention & Exams
Your doctor will ask questions about your medical history. If needed, he or she may recommend preventative screenings such as:
Bone density test – helps detect osteoporosis and predict your risk of fractures
Breast exams, including mammograms – checks for lumps and physical changes
Colposcopy – examines your cervix, vagina and vulva
HPV vaccine – reduces the risk of cervical cancer
Pap test (pap smear) – screens for cervical cancer
Sexually transmitted disease (STD) testing – checks for signs of infection 
Gynecologic Services
Our board-certified gynecologists and certified nurse midwives provide expert care for conditions such as: 
Benign (noncancerous) breast lumps
Cervical dysplasia – abnormal changes in the cervix
Endometriosis – tissue that grows outside your uterus instead of inside it
Menstrual disorders – bleeding that's irregular, excessive, absent or very painful
Ovarian cysts – fluid-filled sacs on the ovaries
Pelvic pain
Polycystic ovary syndrome (PCOS) – hormonal problems that can cause irregular menstruation, extra hair growth, acne and obesity
Uterine fibroids – noncancerous growths that cause pain or heavy bleeding
Vaginal and vulvar problems, including yeast infections
Menopause-related symptoms or conditions
If you experience hot flashes, heart palpitations and other menopause symptoms, talk to your doctor about hormone replacement therapy to help ease your symptoms.
Chronic Pelvic Pain
Manage your abdominal and pelvic pain and improve your quality of life. The Chronic Pelvic Pain Clinic is staffed by specialists who provide physical therapy and mental health care.
The UNM Center for Life also provides complementary medicine services that support your overall well-being. 
You may opt to receive guidance, information and nonjudgmental support on family planning and reproductive health. Our specialists can advise you on:
Birth control options
Pregnancy testing and counseling
Miscarriage counseling and care
For more information on family planning options, visit the UNM Center for Reproductive Health.  
Through UNM Health System, you gain access to the full range of gynecological surgeries, including:
Endometrial ablation – eliminates the uterine lining to treat excessive menstrual bleeding. 
Hysterectomy – removes the uterus to relieve pain, bleeding, prolapse (slippage) or other conditions.
Loop electrosurgical excision procedure (LEEP) – removes abnormal cervical tissue to help prevent cancer.
Myomectomy – eliminates uterine fibroids.
Ovarian cyst removal – treats pain and menstrual irregularities caused by fluid-filled sacs on the ovaries.
Polypectomy – removes polyps, or abnormal growths, from the uterus.
Tubal ligation – seals your fallopian tubes to prevent pregnancy.
When possible, our surgeons will perform your procedure with a minimally invasive technique that reduces pain and recovery time. Your doctor also may use robotic technology that can move surgical tools more precisely, steadily and fully than human hands. 
Make an Appointment
To schedule a gynecology appointment, call us at 505-272-2245.