Advanced Pharmacy Support
Special Medications for Your Unique Needs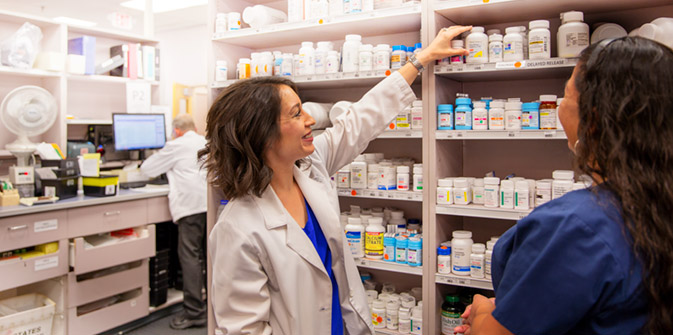 Truman Health Services Pharmacy
Truman Health Services Pharmacy provides compassionate care, with respect for your dignity and privacy. Our pharmacists and staff are experts in specialty medications to treat complex and chronic health problems such as HIV.
Some medications have special instructions or need to be stored in a certain way. You may need extra support with side effects or help with your insurance. We are here to help serve your needs and make this a smooth process for you.
Specialty Pharmacy Hours
Pick up your prescriptions at the pharmacy, or we will ship them to your home or doctor's office—free of charge.
Truman Health Services Pharmacy is open:
Monday – Wednesday: 8:30 a.m. – 5:30 p.m.
Thursday: 8:30 a.m. – 7 p.m.
Friday: 8:30 a.m. – 5:30 p.m.
THS Pharmacy Closures:
Memorial Day - Last Monday of May
Independence Day - July 4
Labor Day - 1st Monday of September
Thanksgiving - 4th Thursday of November
Day After Thanksgiving - 4th Friday of November
Christmas Eve - December 24
Christmas Day - December 25
New Year's Eve - December 31
New Year's Day - January 1
Questions? You can reach a licensed pharmacist 24 hours a day, 7 days a week. Call 505-925-0996 or 844-TRUMAN1. After hours, please call 833-440-1144 or email us at THSRX@unmmg.org.
Getting Started
Your provider will send your prescription to us. Then a pharmacy care coordinator will work with your insurance to get your medication covered.

If your insurance won't pay for some or all of your medications, we'll work with your doctor to find a different medication. If insurance still does not approve, our case managers can help you find resources or alternative assistance.
After we fill your prescription, we'll call you when it's ready. Get your welcome packet now.
Ways to Pay
If your medicine is not covered by your insurance or another source, you may have to pay deductibles, copays, coinsurance, and yearly out-of-pocket limits. We will let you know how much you will have to pay.

If you have questions regarding the cost of your medications, please call us at 505-925-0996. You may pay by cash, check, money order or credit card as payment.
Request a Refill
Call Truman Health Services Pharmacy at 505-925-0996 or 1-844-TRUMAN1.