Memory Care for Seniors  
Get Expert Care & Support at UNM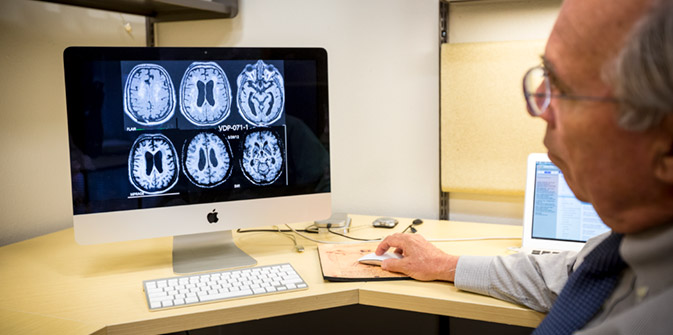 Memory & Aging Center
The Memory & Aging Center at UNM is the only New Mexico center devoted to Alzheimer's and dementia research and treatment. Created in 2016 and led by Gary Rosenberg, MD, our center offers the region's most advanced cognition and behavioral neurologic care.
All UNM Memory & Aging Care team members have completed fellowships in geriatric neurology and behavioral neurology/neuropsychiatry with wide-ranging expertise in:
Behavioral neurology
Geriatrics
Vascular neurology
Our board-certified neurology team includes:
Gladys Cook, CNP
Rawan Tarawneh, MD
What to Expect at the First Visit 
During the first visit, we will thoroughly review the patient's medical history and previous testing and treatment. Then we will conduct a neurological physical exam and cognitive assessment. This takes one to two hours.
The purpose of the first visit is to clarify the diagnosis, determine whether further tests or studies are needed and consider what therapies might be useful.
Please bring the following:
A loved one who knows the patient well, such as a spouse, partner or adult child
All of the the patient's medications
Copies of brain CT/MRI, blood or neurophysical testing done outside the UNM or VA systems
We recommend a follow-up appointment once or twice a year to monitor progress, assess effectiveness of treatments and manage new problems. Call 505-272-3160 to schedule an appointment.
Get a Referral
All patients should have a primary care provider (PCP). These providers help manage many general medical conditions impact brain health, such as high blood pressure and diabetes.

We schedule new patient visits upon referral from your PCP or neurologist. We may need to contact your doctor for results of laboratory tests, images of the brain and current medications.

We accept most PPO/HMO/POS plans. Please call your insurance carrier to verify benefits and coverage at University of New Mexico. If your insurance plan requires a referral [PDF] from your PCP, please get one to avoid personal charges for your visit. Referrals may be faxed to us at 505-272-9427.
Research & Clinical Trials
We contribute to the research and development of new methods to diagnose, treat, and prevent cognitive disorders. Patients may be asked about their interest in participating in research studies. Spouses or partners of a patient may also be asked about participating in research as part of a control or comparison group.

Participation in any research program is voluntary. Declining to participate has no influence on any services provided by the Memory & Aging Center. Ask your neurologist for information about research that may apply to your family.

Call 505-272-3315 for more information on current research studies. 
Compassionate Care for Seniors
UNM is home to the only senior health center in Albuquerque. Find a geriatric primary care provider today. 
Learn More