Scott A. Ness, PhD
The Victor and Ruby Hansen Surface Endowed Professor in Cancer Genomics
UNM Comprehensive Cancer Center Associate Director for Shared Resources
Professor of Molecular Medicine, Department of Internal Medicine
Director, Analytical and Translational Genomics Shared Resource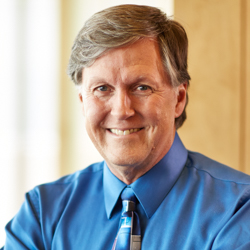 Office: CRF 121
Tel:  505-272-9883
Email:  sness@salud.unm.edu
Scott A. Ness received his B.A. in biology at the University of California, San Diego in La Jolla, CA in 1980 and his Ph.D. in biochemistry from the Department of Chemistry and Biochemistry at the University of California, Los Angeles in 1985.  He did post-doctoral research at the European Molecular Biology Laboratory in Heidelberg, Germany, in the laboratory of Dr. Thomas Graf, studying oncogenes, transcription and leukemia. Dr. Ness started his own laboratory at Northwestern University in Evanston, IL in 1991 and moved to UNM Health Sciences Center in 1998.
The Ness laboratory studies cancer cell biology, the relationship between oncogenes and transcriptional regulation, hematopoietic stem cells and the control of cell fate. Our work focuses on the c-Myb and v-Myb transcription factors, and regulatory proteins that control their activity. The Ness lab uses genomics and bioinformatics approaches in combination with biochemistry, molecular biology and cellular biology. We apply these various types of tools to perform highly innovative basic and translational research.
The research in my laboratory extends from basic science to translational research to technology development. My laboratory applies molecular and genomics approaches to do innovative studies concerning the regulation of gene expression in normal and cancer cells.
Learn More
Current Members of the Ness Laboratory (2021):
Post-Doctoral Researchers:
Recent:  Olivia George (now faculty at the Univ of Hawaii)
Graduate Students:
Recent:  Candace Frerich (now at UTSW)
Research Technicians:
Maggie Cyphery
Jennifer B. Woods
Bioinformatics Staff Scientists:
Kathryn (Charlie) Brayer
Roger Brown