Prenatal Care
Have a Happy, Healthy Pregnancy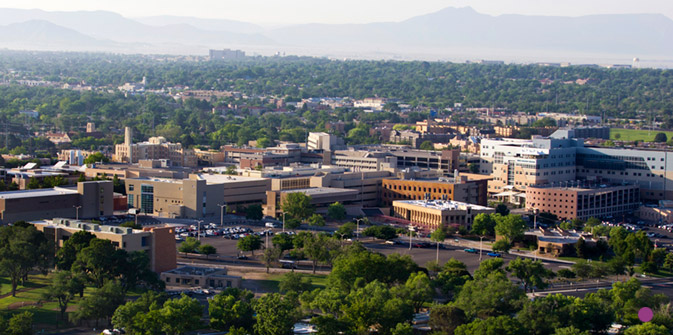 Prenatal Care
Prenatal care gives you and your baby the best chance at a healthy pregnancy.
UNM Health offers medical care, emotional support and resources to help you get ready to have your baby. 
Centering Pregnancy: Group Pregnancy Support
Learn with other moms-to-be when you choose to participate in CenteringPregnancy, a group model of prenatal care. Attending CenteringPregnancy has been linked to increased birth weight and gestational age of pre-term newborns—the program can benefit you and your baby.
During each session, you'll meet briefly with a provider. Then you'll gather with other expecting moms to discuss pregnancy topics, such as body changes, relationships, nutrition, breastfeeding, new baby care and smoking cessation.
Advanced Prenatal Testing
Your provider may recommend one or more ultrasound exams to check on your baby during pregnancy. Ultrasounds are painless procedures that use sound waves to create pictures of the baby. You can get copies of the images after the test.
We use ultrasounds, blood tests and other types of prenatal testing [PDF] to look for health concerns in the baby. Talk with your family doctor, obstetrician or certified nurse-midwife about what tests are best for your pregnancy.
High-Risk Pregnancy Care
UNM Hospital is the only Level 4 maternity hospital in New Mexico, and one of the few centers in the state that can provide care for high-risk pregnancies.
High-risk pregnancy means you and your baby need more frequent or more advanced care. Your pregnancy may be considered high-risk if you have certain medical conditions, a history of preterm birth [PDF], are younger than 18 or older than 40, or are carrying twins or more.
No matter what you and your baby's needs are, our maternal-fetal medicine specialists are available around the clock to help. The Special Delivery team uses the latest medical research and sophisticated so you can get the most advanced care when you need it.
If you have a chronic condition such as lupus or heart problems during pregnancy, you can stay in a comfortable, private suite. In the Women's Special Care Unit, nurses will monitor your baby's heartbeat and make sure both of you stay in the best possible health.
OB Triage
If you experience pregnancy-related complications such as abdominal pain or decreased fetal activity, visit OB Triage. The OB Triage team is located on the fourth floor [PDF] of the Bill and Barbara Richardson Pavilion at UNM Hospital. Caring experts are available to help you 24/7. 
Make an Appointment
To schedule a prenatal appointment, call 505-272-2245.
Join a Midwife-Led Class
Know what to expect throughout your pregnancy and get ready for childbirth. Explore a CenteringPregnancy class to see if it's right for you.
Tour UNM's Labor & Delivery Wing
You are in good hands at UNM. Learn what to expect when you arrive to deliver.
Currently Viewing
Stages of Childbirth
Currently Viewing
Postpartum
Currently Viewing
Breastfeeding Tips
Currently Viewing
Midwifery
Currently Viewing
Gentle C-Sections
Currently Viewing
Morning Sickness
UNM Health Hub
Discover recent news and follow personal healthcare journeys.
Read the Latest