Create Your Ideal Birth Plan
We're Here to Support You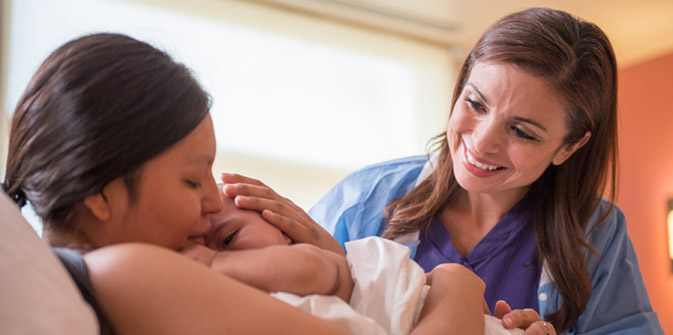 Pain During Childbirth
There is no right or wrong way to manage your labor pain. Your birth experience is personal, and we are here to support you.
You may prefer a natural approach to pain relief using breathing and relaxation techniques. If you choose to use pain-relief medication, you can choose from three options.
Nitrous Oxide
Nitrous oxide, also known as laughing gas, is a non-invasive pain relief medication. You'll breathe it in through a face mask—you are completely in control of how much you inhale. UNM is one of the few hospitals in the country to offer nitrous oxide for labor pain management.
IV Medication
If you want to still feel sensations during labor, but take the edge off your pain, we recommend a pain medication through an IV. These medications can cause side effects such as nausea, vomiting and itching. They may make you and your baby sleep, so we give you less towards the end of your labor.
Epidural Block
Epidurals are a form of regional anesthesia. This means they numb only part of your body. An anesthesiology will place a catheter (a small tube) in your spine. Medication will flow from an IV into the catheter, numbing your body temporarily from the chest down.
Ask your doctor if you have questions or concerns. You may request to meet with an anesthesiologist before delivery.
Make an Appointment 
To schedule an appointment, call us at 505-272-2245
Currently Viewing
Stages of Childbirth
Currently Viewing
Postpartum
Currently Viewing
Breastfeeding Tips
Currently Viewing
Midwifery
Currently Viewing
Gentle C-Sections
Currently Viewing
Morning Sickness
Positive birth experiences during the pandemic
Check out this KOB4 video on how UNM Hospital takes extra steps to keep families' birth experiences close to how they imagined.
Watch Now