Get the Life You've Always Wanted
Weight Loss Surgery Can Help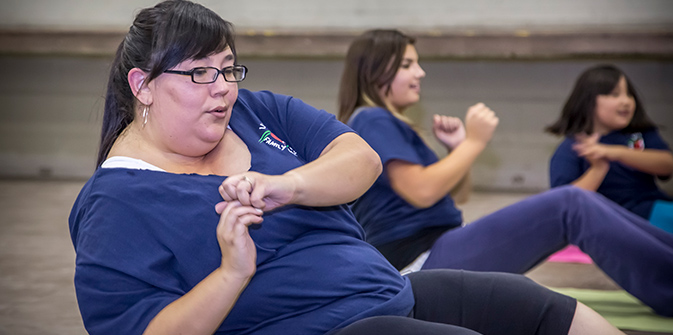 Bariatric Surgery Checklist
Choosing to have bariatric surgery is a big decision. It's a lifelong commitment to improving your health every day. To help you make the right choice, we require all patients who are interested in bariatric surgery to view an online pre-recorded video seminar. 
The seminar will cover:
Types of bariatric surgery we offer
Your role in the months prior to surgery
The recovery process
Long-term health maintenance
Benefits, risks and financial cost of surgery
After the seminar, take your time to decide whether bariatric surgery is right for you. When you're ready, ask your primary care provider (PCP) to send a referral to UNMH/SRMC Bariatric weight loss surgery team. 
Please have your referral faxed to 505-925-1191. 
Please click on the link below and complete our Medical/Dietary Questionnaire and short posttest.  Please return to the address provided on the questionnaire.  We will then call and schedule you for a consultation with one of our providers.
COVID-19 Approval Process
Due to the pandemic, we do both telehealth appointments as well as clinic visits. Upon receiving your Medical & Dietary Questionnaire a coordinator will call you and schedule you for a consultation.
What to Expect at Your Bariatric Visit
In your first visit a Provider will ask several questions to help determine whether bariatric surgery might be a safe and healthy option for you. Please be prepared to answer questions about your:
Eating habits, including how you feel when you eat too much
Exercise habits, such as activities you do now or can no longer do because of your health
Height, weight and BMI
Education and employment
Chronic health conditions, such as heart disease, heart burn, diabetes, high blood pressure, joint or back pain, sleep apnea or swelling (edema)
Alcohol, tobacco and drug use
Mental health, including anxiety, depression and eating disorders
Medical and surgical history: Certain conditions and procedures complicate weight loss surgery
If we feel bariatric surgery might be a healthy option for you, we'll call you to schedule a visit with a UNM nutritionist or bariatric surgeon to start preparing for weight loss surgery.
3 Tips to Prepare for Your Pre-Approval Visit
Stop smoking: We require patients to quit all forms of tobacco for at least two months prior to seeking weight loss surgery. Tobacco use greatly increases the risk of complications before, during and after surgery.
Make lists: Of your medications, chronic conditions, dieting attempts and health care providers. It's easier to write this information down ahead of time than remember it on the phone!
Call your insurance: Ask whether bariatric surgery is covered, as well as the preparation and recovery care you'll need to succeed.
Types of Weight Loss Surgery
Once you've decided to have weight loss surgery, your next decision will be to choose a procedure. Together, you and your surgeon will decide which option is right for you.
Bariatrics at UNM SRMC
3001 Broadmoor Blvd NE
Rio Rancho, NM 87144
Bariatrics at UNMH
2211 Lomas Blvd. NE
Albuquerque, NM 87106