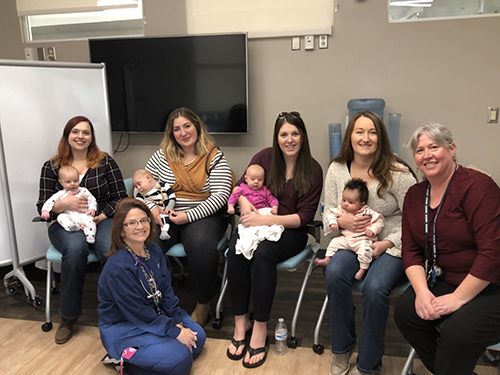 By Katie Kivlighan, CNM, PhD
Centering Pregnancy Group Prenatal Care: Find Your Pregnancy Buddies!
Centering Pregnancy is prenatal care and a support group all in one. This midwife-led program offers women individual and group prenatal care, as well as lasting postpartum relationships.
Have you ever heard of having a "pregnancy buddy?" That's when one of your friends or a co-worker is pregnant at the same time as you. Your pregnancy buddy is someone who understands what you're going through, because they're in the same boat.
The Centering Pregnancy program at UNM Hospital takes the idea of pregnancy buddies to the next level. It's prenatal care and a support group, rolled into one!
Groups of eight to 10 patients with similar due dates meet each month for prenatal care with a certified nurse-midwife (CNM). Every patient gets time alone with the CNM, then the group comes together to talk about how they're feeling, get pregnancy education and learn from each other.
Research shows that patients in group prenatal care tend to have higher rates of breastfeeding. They also feel better about their patient experience and feel more educated about postpartum depression and early parenting.
Patients in group prenatal care may also have better pregnancy outcomes, such as a lower risk of:
Preterm birth

Low newborn birthweight

Neonatal intensive care unit admission

Emergency room in the third trimester

Needing a cesarean (C-section)
No one should have to go through pregnancy alone. We find that many of the patients who join Centering Pregnancy make long-term friendships with the other women in the group. It's not uncommon that they'll meet on their own time to socialize, even as their babies become toddlers and school-aged children.
It's your choice to decide whether to participate in Centering Pregnancy. If you feel like it's not for you, you can switch to solo prenatal care. Let's discuss what to expect at group prenatal care.
What to Expect at Appointments
Your first prenatal visit will be a one-on-one appointment with your midwife or doctor. At that visit, we will discuss your health history and any concerns you might have about your health or the pregnancy. Your second visit will also be with just your provider. At the second visit, we will do a physical exam.
By that point, most patients are into their second semester, when the risk of miscarriage is lower. Then, you'll start meeting with the group.
You'll be in a group of eight to 10 women with due dates in the same month as yours. Your labor support person—a friend, family member, partner or doula who will be with you in the delivery room—is welcome to attend with you.
At the start of each visit, you'll get 5 minutes to speak privately with your CNM. In this time, we'll discuss your personal health and pregnancy. This is a great time to ask questions you prefer to keep private.
Once everyone has had a turn for their private visit, the group comes together to discuss all aspects of pregnancy:
The baby's growth

Relationships

Preparing older kids for a new baby

Smoking cessation

What to expect during delivery

Breastfeeding

Newborn care
The group setting is great for first-time pregnancies. Sometimes you don't know what to ask, and it's helpful to hear other people's experiences. Moms with past pregnancies can also benefit from hearing what recommendations and options might have changed since their last baby was born.
Related reading: Pregnancy After 35 – What Older Moms Need to Know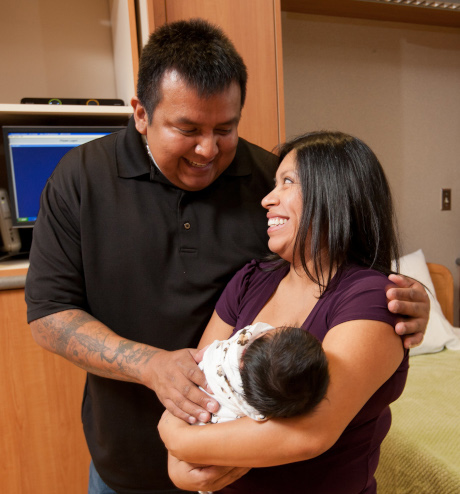 Related Reading
Pregnancy After 35 – What Older Moms Need to Know
Meet the Midwives!
The midwife who leads your prenatal care may not be on call when you go into labor. Our midwifery team strives to reflect the cultural diversity of our great state. Watch our video to learn more.
Lasting Friendships
One of the best things about Centering Pregnancy is making new, lasting friendships. The group provides a support network of people who are going through similar experiences.
Many patients trade phone numbers, emails or social media handles to stay in touch outside of class. A lot of these women become long-time friends, attending the babies' birthday parties and hanging out on weekends. It's wonderful to get to see women from different backgrounds connecting through pregnancy and supporting each other.
After you have your baby, we'll see you back at the hospital for two individual postpartum care visits. These visits are very important—we will check on your recovery from childbirth and address any new needs, including birth control options and mental health support if you need it.
Then, after the last mom in your group delivers, we'll plan a reunion party for the group. You can meet each other's babies and share tips for breastfeeding, newborn care and more. It's so fun to see each group come full circle!
Group Prenatal Care in the Pandemic
During the pandemic, we have been holding virtual Centering Pregnancy sessions. All the patients log on to Zoom or call in by phone for their individual sessions, and then we meet as a group by Zoom or on a conference call.
Your labor support person is welcome to join the virtual sessions, too. As COVID-19 vaccination rates increase in New Mexico, we hope to get back to meeting in person again.
How to Join Centering Pregnancy
All pregnant patients are welcome to join Centering Pregnancy. For patients with normal, healthy pregnancies, these group visits will be your prenatal care appointments. If you need a pelvic exam, we will schedule a separate appointment for you.
Patients with high-risk pregnancies will also need to visit their maternal-fetal medicine doctor and any other specialists they see, such as for diabetes or heart care.
Centering Pregnancy does not require extra appointments for most patients. The cost and insurance coverage is the same as regular prenatal care. However, you can get so many more benefits from the group! You'll get expert care and information from your midwife, and you will get to learn from and interact with other moms who understand what you're going through.
If you are interested in group prenatal care, ask your midwife or doctor about Centering Pregnancy. We'd love to have you join our pregnancy care family!
To learn more about Centering Pregnancy, call 505-272-2245.