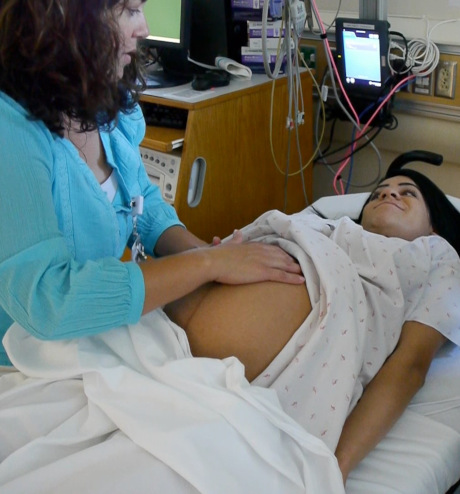 By Nicholas Andrews, MD, PhD
Who Should be in the Delivery Room? How to Choose the Best Labor Support Person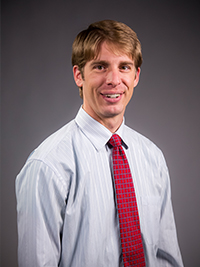 Health care providers have lots of ways to keep you focused and safe during labor and delivery. But one person often provides more benefits than your doctor or nurse: your support person.
Having a dedicated labor support person—someone not on your health care team—is so important. Research shows that women who have continuous labor support are less likely to use pain medications or have C-sections. They also tend to have shorter, more satisfying birth experiences.
At UNM Health, we think it's so important for women to have labor support that, even with limited visitors during COVID-19, we've prioritized allowing each patient to have a support person in the delivery room.
Giving birth is one of the most important days of your life. Your labor partner can do a lot to make it the birth experience you envision. Their role is to help you focus, manage your pain and encourage you during what can feel like a marathon.
Let's talk about how to build the perfect support system, how a labor partner can help you prepare for childbirth and their role in the delivery room.
4 Questions to Ask About Support Person Options
When choosing who will be your primary labor support person, the first step is to have a frank discussion. Being present for the birth of a child is different from being an active support person. You want someone who will be ready and able to help you through a challenging and painful—yet joyous—experience.
When thinking about labor support, most people assume it will be the woman's spouse or partner. That is often the case. But while the partner is often present, the primary support person may be the patient's mother, sister or best friend, or a doula.
Think about these questions as you consider who should join you in the delivery room:
1. Is your partner right for the job?
Many partners are wonderful primary support people during labor and delivery. But some aren't, and with good reason. It can be difficult for your partner to see you in pain. And, if they faint at the sight of blood, consider finding someone else to be your support person. You don't want to be worried about your partner while you are trying to focus on having your baby!
If you choose a different support person, your partner can still be in the room, and as involved as you both would like. Or they can wait in the waiting area—whatever makes you both comfortable. Before, during and after childbirth, there are still plenty of ways your partner can support you.
2. Would you prefer support from an experienced mom?
Some women find it comforting to have another woman with them, especially someone who has given birth before. They can tell you what to expect and answer a lot of your questions.
For some families, it's a cultural custom to include a female relative in your labor and delivery. For much of history, in fact, childbirth was a female-only event. A woman's female relatives and friends would help her, along with a midwife. Fathers were often asked to boil water or fetch towels (probably to get them out of the way!) but they typically didn't attend the birth. Talk with your family and your OB/GYN or midwife about the best options for you.
3. Do you prefer a doula?
Another support option that is becoming more common are doulas. These trained companions provide emotional, physical, and educational support to women during pregnancy, labor, delivery, and after birth.
At UNM Hospital, we recognize the benefits that women can reap from doulas, so we started a volunteer Birth Companion Program that offers free birth companions to incarcerated, uninsured and under-served Medicaid patients who deliver their babies here. This program is on hold during the COVID-19 pandemic. However, we will start the program again as soon as it is safe.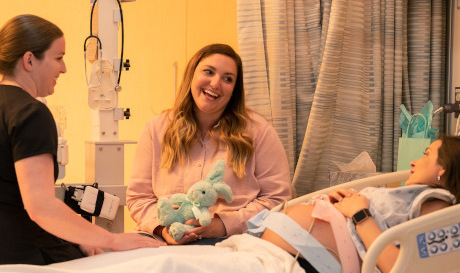 Related Reading
What Does a Doula Do? Plus, Tips to Find Your Perfect Match.
4. How many people are allowed?
During COVID-19, in-room visitors are limited. But even in normal times, it's not always safe to have a large number of people with you in the delivery room.
We want you to have everyone with you that you want, but the health care team needs room to work. Things can change quickly in the delivery room. If an emergency happens, we need clear paths and fewer people to get out of the room.
Before you ask multiple people to be in the delivery room with you, talk with your nurse-midwife, family medicine physician, or OB/GYN how many people are allowed. 
In some cases, having a cap on people might work to your advantage. Some patients want just one person with them, but several loved ones want to attend the birth. Your provider can deliver that message for you, and they can blame it on us!
Support Before Childbirth
Now that you've found the perfect support system, let's look at a few ways they can assist you before, during, and after childbirth.
Before Childbirth
There's no such thing as too much preparation. Even if you have already had a baby, there's always something new to learn. This goes for your support person as well.
Ask your support person and/or partner to accompany you to prenatal exams and childbirth classes to learn about relaxation techniques and labor positions. Your support person also can watch videos or read articles or books about how best to help you.
Discuss your birth plan with your support team so everyone is on the same page. That way, they can help advocate for your preferences while you're in labor.
Finally, take a tour of the labor and delivery unit together and pack your overnight bag for your hospital stay. Make sure your support person has their phone handy so they're ready to go when contractions begin.
During Labor & Delivery
Once contractions begin, your support person can jump in and start timing them. The closer together the contractions are, the closer you are to having your baby. Talk with your health care provider in advance about when you should leave for the hospital.
Labor can take a while. Your support person can go a long way in helping pass the time. Together, you can play cards or a board game, watch a movie, or walk the halls.
When contractions become more frequent and intense, your support person can guide you through the breathing and relaxation techniques you have practiced. They can also help you move into different positions to relieve some discomfort. Your support person can help you get into a warm tub, massage your back, or simply offer a hand to squeeze.
Through it all, they should keep encouraging you—calming, positive words can be a big motivator. And they should be flexible. If you want them to stop or start doing something, tell them. Their role is to help you however they can, including helping you communicate with the health care team.
After the Baby Is Born
Once you've had your baby, you deserve and need rest. Your support person can take charge of updating family on the good news and help keep track of information about newborn tests and vaccines that are given after birth.
When you get home, ask for and accept help from family and friends. Let them watch the baby for a few hours while you shower, take a walk, or nap. Don't say no to offers for prepared meals or helping with laundry.
Your support person can also help watch for signs of postpartum depression and anxiety—both of which are common after giving birth. They can help you get the care you need to start feeling like yourself again.
When it comes to pregnancy, labor, and delivery, mom and baby are the stars of the show. But every star needs a strong supporting cast member or two. Find and enlist the person who will be your rock and help you through one of the most joyous moments life can offer.
To find out whether you or a loved one might benefit from Ob/Gyn care, call 505-272-2245.