UNM Comprehensive Cancer Center
Exceptional Cancer Care Begins Here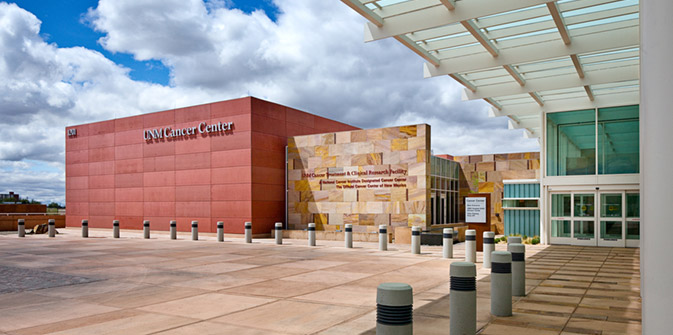 UNM Comprehensive Cancer Center
UNM's Comprehensive Cancer Center is the only National Cancer Institute (NCI)-designated cancer center headquartered in New Mexico. For our patients, this means world-class cancer care that meets rigorous standards for developing new and better approaches to preventing, diagnosing, and treating cancer—all available close to home.
Our doctors and cancer specialists create individualized care plans that include services, resources and new treatments that aren't available at many other facilities. That's why 60% of adults with cancer in New Mexico (and nearly every child) get care here. We annually manage more than:
10,000 patient visits 
15,800 radiation treatments  
38,900 infusions 
13,900 prescriptions filled at our pharmacy 
Get all our services under one roof: diagnosis, treatment, research, support and laboratory and pharmacy services. Our providers also work to overcome the significant cancer health disparities in the Southwest through community-based outreach programs. 
Clinical Trials  
Our NCI designation gives patients in New Mexico access to the newest cancer treatments through clinical trials. Patients can get the newest, most promising treatments before they are available to the public.  
Cancer Specialties and Programs 
Our clinical specialties and patient programs are wide-ranging to meet the needs of New Mexico's diverse population and health needs.  
Adolescent & Young Adult Cancers 
Blood Cancers & Bone Marrow/Stem Cell Transplantation 
Cancer Palliative & End of Life Care 
Cancer Survivorship Clinic 
Early Phase Cancer Clinical Trials Program 
Head & Neck Cancers 
Liver, Pancreas, Gall Bladder Cancers 
Lung & Aero-Digestive Cancers 
Pediatric Cancers 
Prostate, Kidney, Bladder Cancers 
Sarcomas & Cancers of the Bones 
Skin Cancers & Melanoma 
Tumors of the Brain & Spinal Cord 
Women's Cancers 
Cutting-edge Research in New Mexico 
UNM research scientists are making significant progress in developing new cancer drugs, genome sequencing, cancer prevention and cell signaling.  
Locally, our practice and research educate the next generation of cancer doctors, scientists and pharmacists. Ongoing research programs include: 
Cancer Control 
Cancer Genetics, Epigenetics and Genomics 
Translational Cancer Biology and Signaling 
Cancer Therapeutics: Technology, Discovery and Targeted Delivery 
Take the Next Step
Call to make an appointment. 505-272-4946.
UNM Comprehensive Cancer Center
1201 Camino de Salud NE
Albuquerque, NM
UNM Comprehensive Cancer Center—Santa Fe
2055 Pacheco St.
Santa Fe, NM 87144