Center of Excellence for Orthopaedic Surgery & Rehabilitation
The UNM Health Sciences Center of Excellence for Orthopaedic Surgery and Rehabilitation is focused on adult reconstruction of total hip, total knee, foot and ankle, total shoulder, total elbow, total wrist, and podiatry reconstructions.
The two-story 50,000-square-foot structure, located adjacent to UNM Sandoval Regional Medical Center (SRMC) in Rio Rancho's City Center. It includes exam rooms for patients to consult with surgeons, an extensive orthopaedics research laboratory and a rehabilitation facility for physical therapy.
The majority of UNM Health's joint replacement surgeries, including total hip, total knee, foot and ankle, elbow and shoulders, are already being performed at SRMC. The new facility provides ample space for research. It also includes room for a cadaver lab and two Biosafety Level 2 workstations.
40+ Exam & Treatment Rooms
50,000 square feet facility
Other Services of the Center of Excellence
Pool
The pool at the Center of Excellence is designed specifically for therapy intervention and is maintained at an optimum therapeutic temperature of 90 degrees. Our Hydroworx pool features an underwater treadmill with 2 underwater cameras used by the therapists to assess and progress gait training goals in real-time. Our therapists can provide support, direction, and cueing from within the pool alongside patients.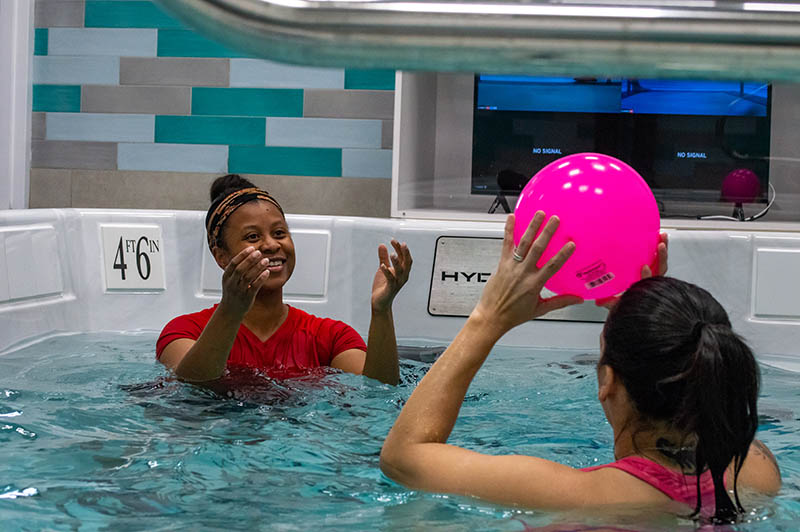 Daily Living Labs
Commonly after an injury or disease process the activities of daily living are affected.  Patients need a safe place to practice and relearn many of the functional tasks that we each participate in daily; kitchen cooking/dishes, meal prep, bathroom use, showering, and dressing. Our OT ADL lab (Occupational Therapy Activities of Daily Living lab) aims to create a healing and challenging environment for therapeutic intervention, education, and practicing these activities. Patients will learn strategies aimed at energy conservation, best use of adaptive equipment, and durable medical equipment all targeting a return of functional independence. Our facilities have mock ups of showers, kitchens and bathroom to help patients practice doing these activities.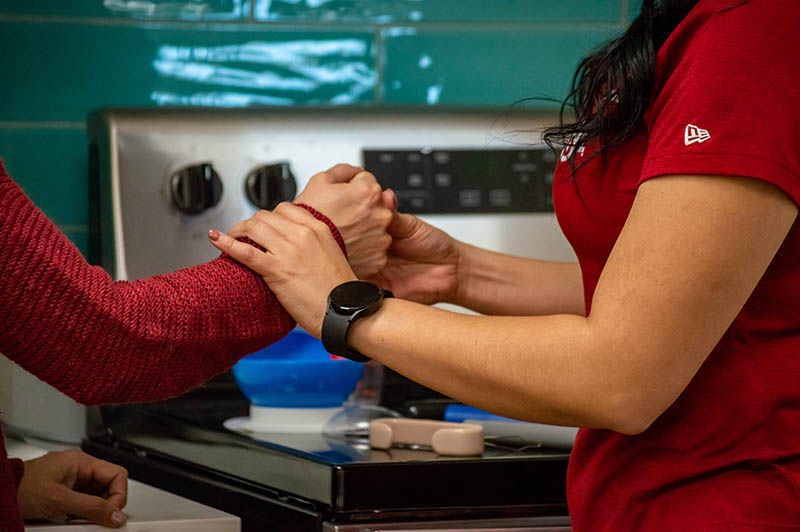 Innovating the Community Through Leading-Edge Methods
Addresses the shortage of clinical sites for future healthcare professionals
Allows for educational expansion and consolidation of those efforts in Rio Rancho
Shares clinical services with Sandoval Regional Medical Center and avoid costly duplication
Enhances patient access and operational efficiencies
Innovation Room invites community participation and future partnership
Increases jobs that promote economic development
Includes priority programs for all health systems, secondary to the aging population
Creates synergy with the new Senior Center being developed on the same campus
Providing the Future of Healthcare
The Center is providing and academic training for clinicians and researchers, featuring leading-edge virtual reality teaching opportunities. The site is also serving as an innovation center to engage the community in understanding treatments and research, and where future partnerships can flourish.
Where To Find Us
Entry for patients to the building is on the East side of the building, please do not try to enter through the doors on the West side of the building.
Our hours for Rehab Clinic are 8:00am to 6:00pm Monday through Friday.
Hours for our Ortho Clinic are 8:00am to 5:00pm Monday through Fridays.
Center of Excellence for Orthopaedic Surgery and Rehabilitation
3200 Broadmoor Blvd NE
Rio Rancho, NM 87144