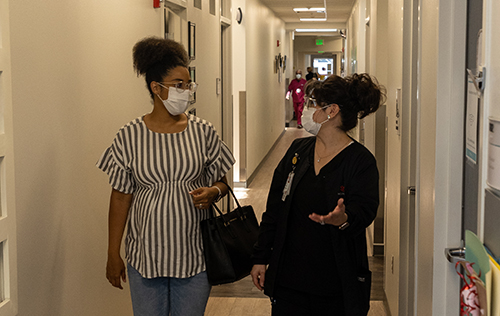 By Katie Kivlighan, CNM, PhD
Ask these 5 questions to choose your pregnancy care provider
Pregnancy is a life-changing time in a woman's life. It's important to have people around to support you through all that pregnancy can throw at you, and that goes for having a health care provider with whom you are comfortable and trust.
What type of provider you choose for your pregnancy care depends on many things, including your health, where you live, and what type of birth experience you want. There are three main types of providers who can give prenatal care:
Certified nurse-midwives (CNMs)

Obstetricians (OB/GYNs)

Family physician
These providers have different skills, training and ideas about pregnancy care and support. You can find whichever type of provider you want at UNM Hospital. If you are pregnant or are thinking about having a baby, you'll want a prenatal care provider who understands you and your personal, cultural and healthcare needs.
Let's talk about how each type of provider delivers care, plus five questions to ask as you make the best choice for your pregnancy care.
3 types of prenatal care providers
Certified nurse-midwives are registered nurses with advanced training. Midwives care for about 25% of babies born in New Mexico, compared to 8% in the rest of the U.S.
CNMs specialize in low- to average-risk pregnancy care, childbirth and postpartum care. They focus on trusting the body's natural abilities and the mother's instincts to manage pregnancy and childbirth.
Your CNM will help you achieve the birth plan you want, safely. With a midwife, you can choose any level of labor pain management you want, from natural childbirth to nitrous oxide (laughing gas) to an epidural.
The UNM Hospital midwifery team works closely with OB/GYN doctors when patients need high-risk pregnancy care. CNMs see patients from the teen years through after menopause.
OB/GYNs are medical doctors who specialize in women's health, pregnancy, and childbirth. They also are surgeons who can do procedures such as cesarean sections (C-section) or vacuum-assisted deliveries.
OB/GYNs have advanced training in high-risk pregnancies and are called to assist if needed in Labor & Delivery. You may need to see a maternal-fetal medicine doctor (MFM) during pregnancy if you have a pre-existing health problem such as diabetes, obesity, or a heart condition.
OB/GYNs at UNM Hospital work closely with CNMs and family medicine providers to take care of you and the baby during pregnancy and delivery. 
Family physicians are doctors that often provide primary and comprehensive medical care for people of all ages. Like midwives, family physicians have long played an important role in the births of children in New Mexico.
Caring for families and supporting pregnancy and childbirth is a key focus of training for family physicians at UNM Health. The family physicians follow a family-centered model of "dyad- care," which means they care for the birthing parent and the baby to promote bonding and ensure the family is cared for as a unit.
Family physicians offering maternity care provide prenatal care, childbirth and postpartum care services for most women with referral to maternal-fetal medicine (MFM) and Maternal and Child Health physicians as needed for more complicated care.
The UNM Maternal Child Health team also has fellowship-trained family physicians who have extra training to provide high-risk care, including cesarean and vacuum-assisted deliveries, vaginal birth after cesarean and twin pregnancies. They also manage chronic diseases in pregnancy such as hypertension, diabetes and care of patients with substance use disorder in pregnancy through the Milagro Program.
If you or your baby needs more advanced care your family physician may consult the UNM OB/GYN, MFM or neonatologist specialists. Together, they will work as a team to ensure the best care for you and your baby.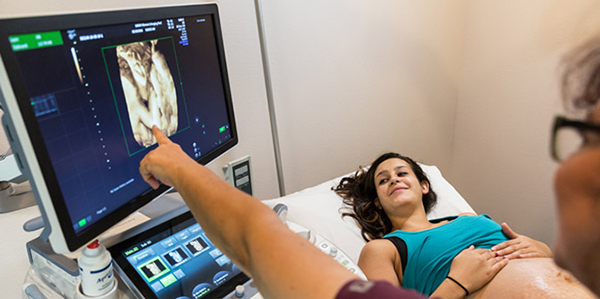 Pregnancy by the Month: What to Expect
Find out how your body and the baby will change during your pregnancy.
5 questions to help you choose a provider (and hospital)
Where do you want to give birth?
Choosing a hospital or birthing center is a big decision. You'll want a place that can take care of you and your baby—and one where your preferred provider delivers babies.
Not all places offer the same options for giving birth. You may want to call and ask whether they offer resources that are important to you, such as:
Prenatal education classes

Group prenatal care, like our CNM-led Centering Pregnancy

program

The type of labor pain management you want

A neonatal intensive care unit (NICU) in case the baby needs emergency care
UNM Hospital offers all these options. Also, consider where you live. If the hospital or birthing center you want is far away from home, you may need to talk with your provider about traveling there close to your due date.
Will your regular provider deliver your baby?
Many birthing centers and hospitals, including UNM Hospital, follow an on-call system for deliveries. That is because our providers cannot work 24/7, even though we all care about you!
You may see one provider for prenatal care, but a different provider likely will deliver your baby. Ask about meeting a few other providers during your appointments. That way, you may feel more comfortable when you give birth. Watch our Meet the Midwives video.
If you get care during pregnancy and give birth at an academic medical center like UNM Hospital, you will get the most advanced care. A medical student or resident also may help in your care or delivery. However, you can request that they not be present if you don't feel comfortable.
Do you have ongoing health problems?
If you have a medical condition such as diabetes or heart disease, you may need advanced prenatal care. We can help you get the specialized care you need for a healthier pregnancy.
If you had pregnancy complications in the past, or if you are having twins or more, you may need care from an MFM. UNM Hospital is the only Level 4 maternity hospital in New Mexico. Our MFM team sees patients with the most complex pregnancy, delivery and newborn care needs.
How does the provider feel about your birth plan ideas?
Each health care provider and practice has a unique approach to patient care. It's important to find someone who respects your personal, cultural and medical needs.
Ask potential pregnancy care providers whether they would support elements of your birth plan, such as:
Getting an epidural

Planning for an unmedicated childbirth
Working with a doula or other labor support person

Including friends or family in prenatal care and delivery

Avoiding certain tests or interventions you aren't comfortable with

Trying vaginal delivery after a past C-section (VBAC)
Look for a provider and hospital that can manage your health needs and will support your preferences.
Can they work with you for payment or coverage?
Talk with the providers and hospitals you are considering about their payment options. Many centers, including UNM Hospital, will work with you to get as much of your care covered by insurance as possible. We will also help you make manageable payment arrangements for anything owed out of pocket.
Some health care providers deliver babies at more than one hospital. If you have a provider in mind, make sure your insurance will cover them at the hospital where you want to give birth.
Making the perfect choice for you and your baby
Finding the right provider and place to give birth can help you feel more confident in your care.
It's natural to ask family, friends, and colleagues about their experiences with certain health care providers. Remember, this is a personal decision, and what is a good fit for one person may not be right for another.
You have the right to do your research and ask questions. Above all, trust your instincts. If you have questions or concerns, call us. We are here to give you all the information you need to make an informed decision.
To learn more about Centering Pregnancy, call 505-272-2245.