Jared Udall, MBA
Chief Financial Officer
Biography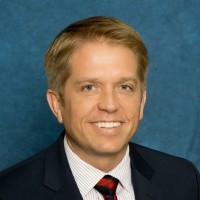 Jared Udall was born in Eastern Arizona and was raised on a small farm/ranch.  He was involved with the various family-owned business's including a flower shop, restaurant and a wholesale food distribution business. His ancestors homesteaded a ranch between Lordsburg and Silver City and he has deep roots in New Mexico, on both his fathers and mothers' side of the family. He has been married to his wife for 25 years and he has 5 children ranging from 24 to 13.  While he has no grandchildren yet, he is quietly hoping for one soon.
Jared first entered the business of healthcare when he helped open a new facility in Las Vegas, NV, for Encompass Health (formerly known as HealthSouth) as the controller in 2001.  He served as the CFO for DaVita Medical Group prior to joining the UNM Medical Group 3 years ago as the Senior Executive Director of Finance and Controller. His teams at UNMMG previously included Finance, Financial Planning, Financial Reporting and Provider Reimbursement.
Jared attended Brigham Young University in Hawaii and University of Phoenix where he completed an MBA with a focus on Health Care Management. He currently serves on the Board of Directors for Syncronys, the New Mexico Health Information Exchange, as the Chair of the Finance and Audit committee. He has hobbies that range from working on his family's ranch to racing dirt bikes in off-road races here in New Mexico.