Advanced Stroke Care & Rehab
UNM Health provides individualized, evidence-based treatment and rehabilitation for patients who have suffered strokes. You can reach a UNMH physician 24/7 for consultation, transfer, and referral services.
To refer a patient or talk with a neurosciences specialist, call the Physician Access Line (PALS) at 505-272-2000 or 888-866-7257.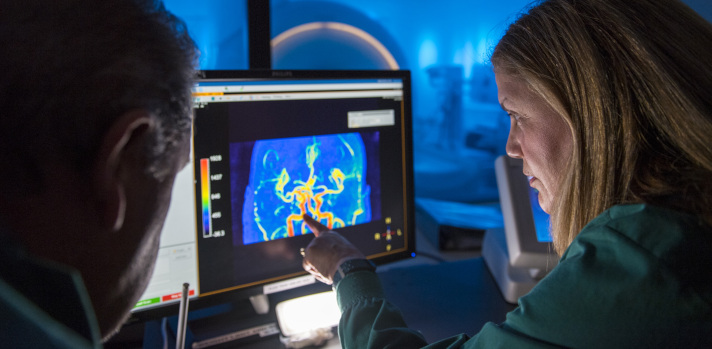 Centralized Scheduling
505-272-IUNM (4866)
Advanced Stroke Care Center
Recognized by the American Heart Association for high-quality treatment
New Mexico's only Level I Trauma Center
Caring for All New Mexicans
In 2019, Dr. Michel Torbey led UNM Neurology to become a designated Center of Excellence in bioscience, driving innovation in the industry.
Meet the Chairman
Every Provider Plays a Role in Stroke Protection
80% of strokes are preventable. Do you know which patients are most at risk?
Test Your Knowledge
Advances in Stroke Prevention
While stroke care traditionally focuses on treatment, UNMH also provides tools for prevention. UNMH is the first center in New Mexico to use the Woven EndoBridge (WEB) device and the pipeline embolization device (PED), brand-new tools that treat aneurysms through a small puncture in the leg or wrist. These treatments offer many advantages for patients, including fewer complications, shorter recovery times and reduced or eliminated dependence on blood-thinners.
Our Expertise
The UNM Neurosciences and Stroke Care team collaborates with neurosurgeons and endovascular neurosurgical radiologists to treat patients from throughout New Mexico and the Southwest who have:
Amyloid angiopathy
Arterial dissections
Arteriovenous malformations
Carotid stenosis
Carotid and vertebral pseudo-aneurysms
Cerebral venous sinus thrombosis
Dural arteriovenous fistulas
Fibromuscular dysplasia
Intracranial hemorrhage and aneurysms
Moyamoya disease
Neurovascular conditions
Posterior reversible encephalopathy
Post-stroke seizure and epilepsy
Reversible cerebral vasoconstriction
Strokes—Hemorrhagic, pediatric, transient ischemic and ischemic
Symptomatic arteriovenous malformation
Vascular and cerebral malformations
Understanding Brain Tsunamis
Bill Shuttleworth, Ph.D., leads UNMH's neurology team studying the phenomenon of brain tsunamis: when large populations of brain cells undergo massive depolarizations. "There are opportunities coming soon that may be fantastic for our patients. Some of the best work in the world is being done at UNMH, and that's something that providers could become a part of along with their patients involved in clinical trials here."
Awards & Certifications
UNMH has received recognition for excellence in stroke care from the following:
The Joint Commission-Advanced Primary Care Stroke Center Certification
American Heart Association/American Stroke Association
- Get with the Guidelines® Stroke Gold Plus Quality Achievement Award
- Target-Stroke Honor Roll Elite
Research Is At the Heart of What We Do
At UNM Health, our neurological care is grounded in the latest research, using the most advanced technology. We train the best and brightest physicians and scientists in the Southwest.
6+
Ongoing clinical, multicenter stroke trials
50,000
Feet of research lab space
The Only MDA Care Center in New Mexico
Advanced Stroke Rehabilitation
Rehab begins before patients leave the hospital—we typically introduce physical therapy within 48 hours after a stroke. As the first Primary Stroke Center in New Mexico, UNM Health offers the expertise and resources to to create a customized treatment plan for your patient.
Call to Refer a Stroke Patient
Information to Give Your Patients