UNM Sandoval Regional Medical Center Leadership
Established in 2012, SRMC serves tens of thousands of New Mexicans each year. The center is led by President and CEO Jamie Silva-Steele, RN, BSN, MBA, FACHE.
Meet the Leadership Team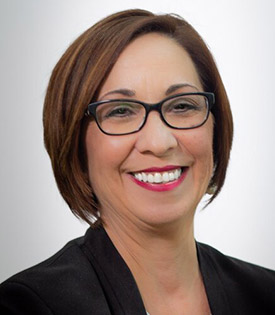 Jamie Silva-Steele, RN, BSN, MBA, FACHE
President and Chief Executive Officer
Jamie Silva-Steele has over 35 years of progressive experience in an academic healthcare environment. After earning a Bachelor of Science in Nursing from the University of New Mexico, she began her career as a pediatric nurse and worked in the general and sub-acute nursing units at the University of New Mexico Hospital (UNMH).
As her career progressed, she obtained her Master's in Business from the University of Phoenix, and moved into leadership roles within the organization, taking on director positions and serving as an Administrator for Ambulatory Services at UNMH.
In 2013, Ms. Silva-Steele joined UNM Sandoval Regional Medical Center (SRMC) as its interim Chief Operating Officer and has been serving as its President and CEO since 2014.
She was a National Association of Public Hospitals (NAPH) fellow from 2011-2012 (now known as America's Essential Hospitals). She participated in the Disparities Leadership Program through the Disparities Solution Center of Massachusetts General Hospital from 2009-2010 and was a recipient of The Disparities Leadership Program Award for "Recognition of Excellence in Addressing Racial and Ethnic Disparities in Health Care." In addition, in 2014 she received the Governor's New Mexico Distinguished Public Service Award for her work in addressing disparities in health care while serving at UNM Hospital. Ms. Silva-Steele is board certified as a Fellow of the American College of Health Executives (FACHE).
Ms. Silva-Steele has served on the Hospital Services Corporation (HSC) Board of Directors since 2014, the New Mexico Hospital Association (NMHA) Board of Directors since 2015 and the New Mexico Healthcare Executives (NMHE) Board of Directors since 2016.
---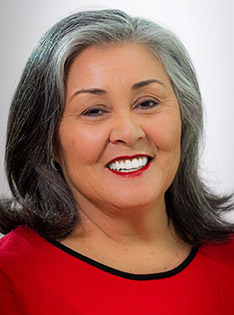 Pam Demarest
Chief Nursing Officer & Chief Operating Officer
Pam Demarest joined the Executive Leadership Team at UNM Sandoval Regional Medical (SRMC) Center in March of 2014 as the Chief Nursing Officer. She was named the Chief Operating Officer in addition to her CNO role in December of 2018. Prior to working at UNM SRMC, Pam had progressive experience in community and academic hospitals since 1974.
Pam has worked for UNM Hospitals for the majority of her career, starting out as a burn and trauma nurse in the 1980s, and moving on to a variety of leadership roles within the organization throughout the 1990s and 2000s.
Positions included Transplant Services Director, Value Analysis Program Director, Interim Executive Director of Emergency Services, Executive Director of Adult Medical Surgical Services, Interim Executive Director Medical Surgical Services and her most recent role as the Executive Director of Critical Care and Progressive Care Services. She received her Master's in Business/ Healthcare Administration in 2000 and her Master's in Nursing in 2007.
Pam is a member of the New Mexico Organization of Nurse Leaders and the American Organization for Nursing Leadership. She has served on the boards for the New Mexico Hospital Association, Sandoval County Chamber of Commerce and is a member of the Sandoval County Health Council.
Outside of work, Pam loves to visit her out-of-state family, enjoys traveling to new places and appreciates spending time with her friends. She is also known for her creative side, with hobbies that include scrapbooking and making home-made greeting cards.
---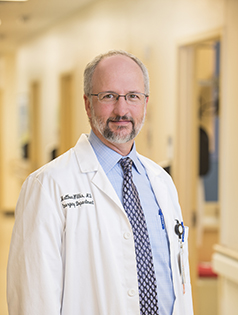 Matthew Wilks, MD
Chief Medical Officer
Dr. Matthew Wilks obtained his BA degree with honors in biology from Oberlin College. He moved to Northern California to pursue graduate studies at Stanford University in theoretical and field marine biology. He then decided to pursue medical school at the University of Arizona, where he obtained his MD from the College of Medicine. He completed his residency in emergency medicine at MetroHealth Medical Center in Cleveland, Ohio.
Dr. Wilks returned to Arizona and worked at Chandler Regional Hospital near Phoenix as an attending physician, director of the emergency department and medical director for Southwest Ambulance and Chandler Police Department's SWAT team. He also worked at Mayo Clinic Hospital in Phoenix and Banner Thunderbird Medical Center in Glendale, Ariz.
Prior to joining SRMC full time, Wilks worked at Arnot Ogden Medical Center in Elmira, N.Y., where he was an attending physician and vice chair of the ED. In 2012, he joined SRMC as a part-time provider in the ED and a year later became its medical director. He has served as the vice chief of staff, chief of staff and immediate past chief of staff. He has also been serving as the medical director of the Quality and Patient Safety Department and several other hospital and medical staff committees.
---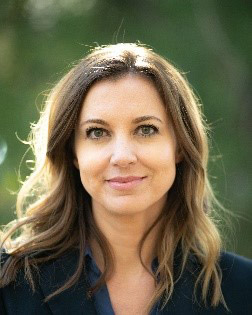 Candra Phillips
Administrator of Ambulatory & Ancillary Services
Candra Phillips is the Administrator of Ambulatory and Ancillary Services for UNM Sandoval Regional Medical Center (SRMC). She has 24 years of experience in healthcare operations and accounting, and she has lived in New Mexico since 2005.
Originally from Tulsa, Oklahoma, Candra earned a Bachelor of Business Administration from Northeastern State University. Subsequently, she received a Master of Accounting from the University of New Mexico.
Candra began her career in multi-specialty outpatient clinics and later worked for St. Francis Healthcare System and the Plumas County Hospital in Quincy, California.
After joining UNM SRMC in 2012 to establish the Outpatient Clinics, Candra has continued to provide leadership for several additional departments including Radiology, Laboratory Services, IT and Volunteer/Guest Services. In her downtime, Candra enjoys writing, gardening and spending time with her children Ariana and Dominic.
---
Darlene Fernandez, CPA
Chief Financial Officer
Darlene Fernandez is a Certified Public Accountant with over 25 years of financial experience. Darlene serves as the CFO of UNM Sandoval Regional Medical Center (SRMC), a not-for-profit healthcare Medical Center in Sandoval County. She began her career with UNM Health System in 2003.
With an accounting degree from the University of New Mexico, she has led various teams ranging from accounting, budget, patient financial services, revenue cycle, patient access, case management and materials management to food and nutrition services.
In her current role as a Chief Financial Officer, she serves as an advisor to the CEO of UNM SRMC.
Prior to joining UNM, Darlene served as an Assistant Controller for Presbyterian Healthcare Services. She started her career at Sun Healthcare and has worked for United Healthcare. Darlene has a wide range of healthcare finance experience.
Download the Organizational Chart
See the leaders behind SRMC. View the complete organizational chart.