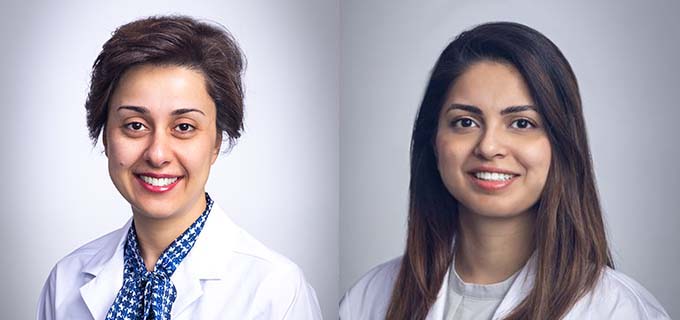 By Tobias Kulik, MD
2 New Stroke Neurology Faculty Drive Education, Empathy
Two new Stroke neurologists recently joined the growing Vascular Neurology team at UNM Hospital. Learn how their different skillsets will help students and patients, and what common goal ties all stroke faculty together.
In any workplace, colleagues should share professional interests and communicate effectively. In specialized stroke neurology, common goals and collaboration are even more important. The positive connections between our residents, fellows, and faculty members directly impact training experiences and patient satisfaction.
As the first Comprehensive Stroke Center in New Mexico, all members of the UNM Health Sciences Center neurology team collaborate closely to care for approximately 700 stroke patients each year. We partner with hospitals throughout the state to improve care access and expand educational opportunities for patients, providers, and trainees.
Our focus on compassion, cohesion, and clinical excellence drew me to UNM HSC in 2017. Since joining the Department of Neurology, I've taken over several administrative leadership roles and have helped hire many new colleagues. We have expanded our team to include seven stroke neurologists (I was one of three when I started) and 12 neurointensivists. There is certainly no lack of work—or passion—among us.
This effort is truly a labor of love for the community, mixed with empathy for patients and each other. Along with professional and clinical skills, these emotional intelligence factors are key qualities we look for when selecting new trainees and faculty for our Stroke Neurology program.
In 2021, we were fortunate that the same pull landed our two newest team members—Monika Manchanda, MD, and Maryam Hosseini, MD, MS—to our growing Neurology program.
Related reading: A Day in the Life of a Neuro ICU Resident
What Brought Me to UNM Stroke Neurology
Long fascinated by the brain, I moved to the U.S. from Germany in 2005 to complete a neurology residency at Rochester University Medical Center, followed by fellowships in vascular neurology and neurocritical care at Washington University School of Medicine in St. Louis.
My early focus was studying the role of astrocytes in cerebral blood flow—research that earned me the Henry Christian Award. I've also received certificates in training programs addressing hospital culture, patient safety, and quality of care, such as the Intermountain Advanced Training Program, which focuses on raising the bar in health care delivery, implementing robust quality strategies, minimizing waste and improving outcomes for our patients.
My passion today is improving the quality and safety of neurology inpatient care. I serve on many committees dedicated to improving care delivery, such as the ethics and the quality committee of the Neurocritical Care Society and the quality and safety task force of the Society of Critical Care Medicine. I currently serve at UNM HSC as the:
Medical director of the Neurosciences ICU
Vice-chair for quality and hospital affairs in the Neurology department
Section chief for stroke neurology, inpatient neurology, and neurocritical care
Fellowship Director of our stroke program and Pre-residency fellowship program
Personally, I love being surrounded by people who share my affinity for the outdoors. I spend as much time as I can biking, hiking, and simply enjoying the stunning landscape here in New Mexico. So do many of my colleagues, including Dr. Manchanda and Dr. Hosseini.
What's included in the Vascular Fellowship Curriculum?
Fellows receive weekly dedicated fellow teaching; attend daily multidisciplinary rounds; and participate in the Neuroradiology conference and bi-weekly journal club.
Curious, clear communicator: Meet Monika Manchanda, MD:
Dr. Manchanda's drive to continually learn and improve while motivating others to do the same has made her an exceptional addition to our team. Current and future patients and students will thrive under her leadership.
Her lighthearted spirit makes it easy to approach and talk with her, and our residents always speak very highly of her patience and willingness to help them learn.
Experienced in educating high-school students about the nervous system, Dr. Manchanda has a special ability to explain abstract, complicated medical conditions and terminology in clear, understandable language. This allows her to easily communicate with our trainees, as well as our patients and their families.
After completing her undergraduate degree at the University of Toronto, Dr. Manchanda received her Doctor of Medicine, summa cum laude, from the American University of Antigua College of Medicine. She then completed:
A neurology residency at the University of Kansas Health System, serving as chief resident
A vascular neurology fellowship at McGaw Medical Center of Northwestern University
Outside of work, Dr. Manchanda loves to travel, explore the outdoors, and learn about different cultures. This curiosity is also what motivated her to study vascular neurology—a field characterized by endless opportunities to discover. She describes the field perfectly: "It is like when you see a bit of coastline and it makes you want to see more and go farther."
Academic adventurist: Meet Maryam Hosseini, MD, MS:
Also an avid traveler and outdoor explorer, Dr. Hosseini joined us based on recommendations from many of her friends—who also happen to be UNM HSC faculty. We knew she would easily fit in with the team because of these long-standing relationships, and we were impressed by her research experience
Before pursuing residency training, Dr. Hosseini devoted her time to studying translational neurological research methods to apply research in clinical settings. She also published research on coma recovery in rodent models.
Dr. Hosseini earned a Master of Science in biomedical and translational sciences from the University of California, Irvine (UCI) after completing her Doctor of Medicine from Mashdad University of Medical Sciences. Also at UCI, Dr. Hosseini completed:
A neurology residency, serving as chief resident
A vascular neurology fellowship
Training in the hospital's Comprehensive Stroke Center
During her residency, Dr. Hosseini researched cryptogenic stroke and presented her work at the International Stroke Conference and American Academy of Neurology Annual Meeting. Her residency experience inspired her to pursue vascular neurology. She says: "I found myself attracted to the fast-paced teamwork necessary in the care of stroke victims. The breakthrough science and evolving knowledge have enabled us to offer endovascular treatments now within 24 hours."
Most of all, Dr. Hosseini loves finding new ways to improve patient care. Her passion for serving the community and expertise in developing effective research methods will help ensure our patients receive the best care possible.
Related reading: Young Adults Can Have Strokes, Too: BE FAST to Spot the Signs
Different personalities, one common goal
There is no "best" personality type that is best suited for a career in neurology. To move research and patient care forward, we need people of all backgrounds and abilities.
Dr. Manchanda, Dr. Hosseini, and I have different personalities, but we share a critical desire: to give back to our community. While this work can be challenging, combining and supporting one another's strengths to significantly improve the health of high-need patients also makes it incredibly rewarding.
Looking for an impactful education in neurology?
Schedule a call with JJ Maloney, Medical Education Program Manager for the UNM HSC Department of Neurology