We're building a new part of the Hospital! How can you get to the old one?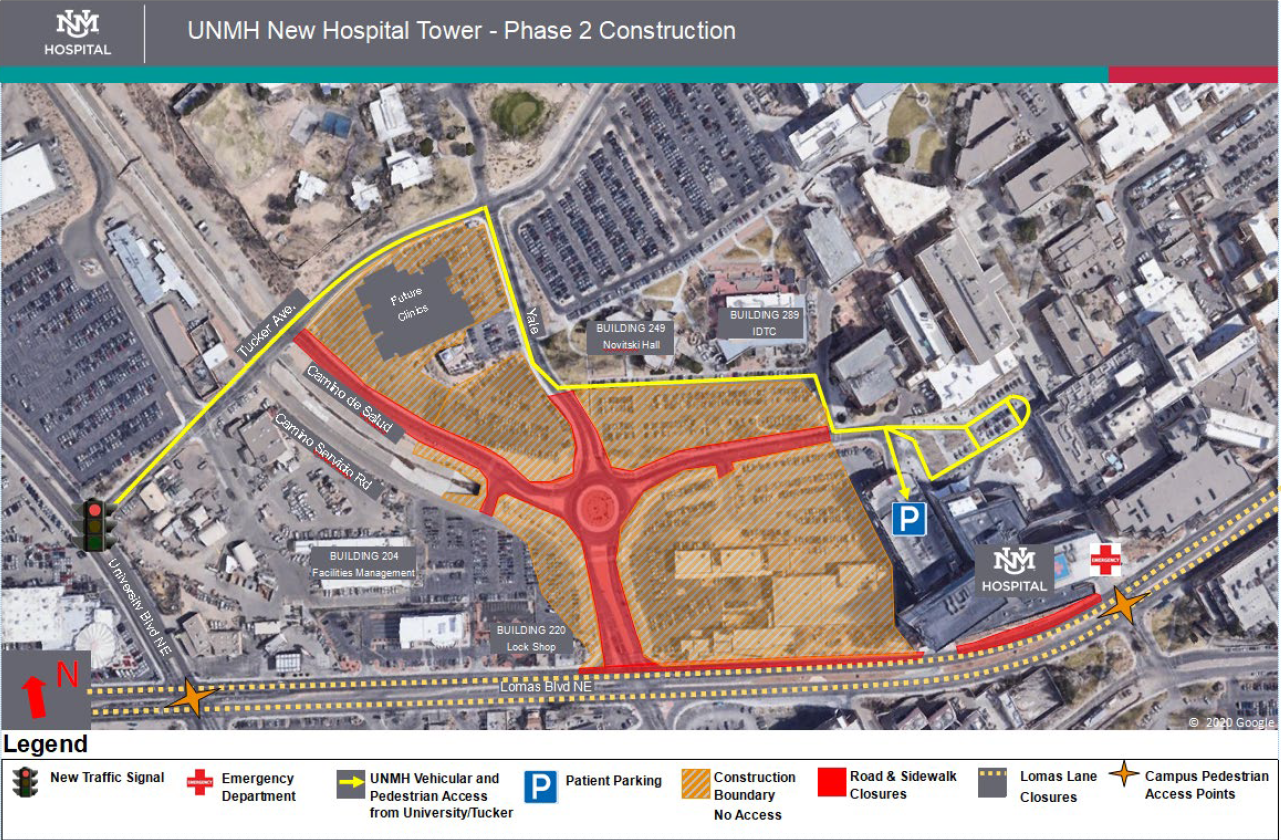 This phase of our construction includes a new Patient Parking Structure and other buildings. Here's what you need to know. Road and lane closures started on January 30. Some closures will last through May. (See map).
Closures – Started Saturday, January 30.
Yale Blvd. between Lomas and Camino de Salud is closed through May.
The outer westbound lane on Lomas Blvd. between the UNMH ER entrance and south Yale Blvd. is closed through April 21.
Please note, the entrance point at Lomas and Yale is closed until further notice.
Hospital and North Campus Lomas Entrance Points to Main Campus Are Open Lomas-University and Lomas-Stanford entrance points and crosswalks remain open. (See the orange stars on the map.)
How to Get to the Hospital and Hospital Parking Now
Starting Saturday, January 30 through May (See the yellow line on the map.)
From the intersection of Lomas and University, head north. Get in the right lane.
Very soon, you will come to a new stoplight at Tucker Road. Turn right (east).
Continue east on Tucker through the first stop sign, until you get to a 4-way stop at Yale.
Turn right (south).
The road will follow the construction fencing. It will curve left where it looks like a dead end.
Follow the road to the left. It will lead you around the construction zone into the parking garage or drop-off area.
We Recommend
• Please plan an extra 30 minutes to get to your appointments.
We're Working Hard to Help You!
We are taking steps during construction to help you get where you need to go. As things change, we'll do our best to keep you posted. Please see the latest updates on our website at unmhealth.org/road-closures or call 505-272-2111 for the latest information.
Thank you for your patience!