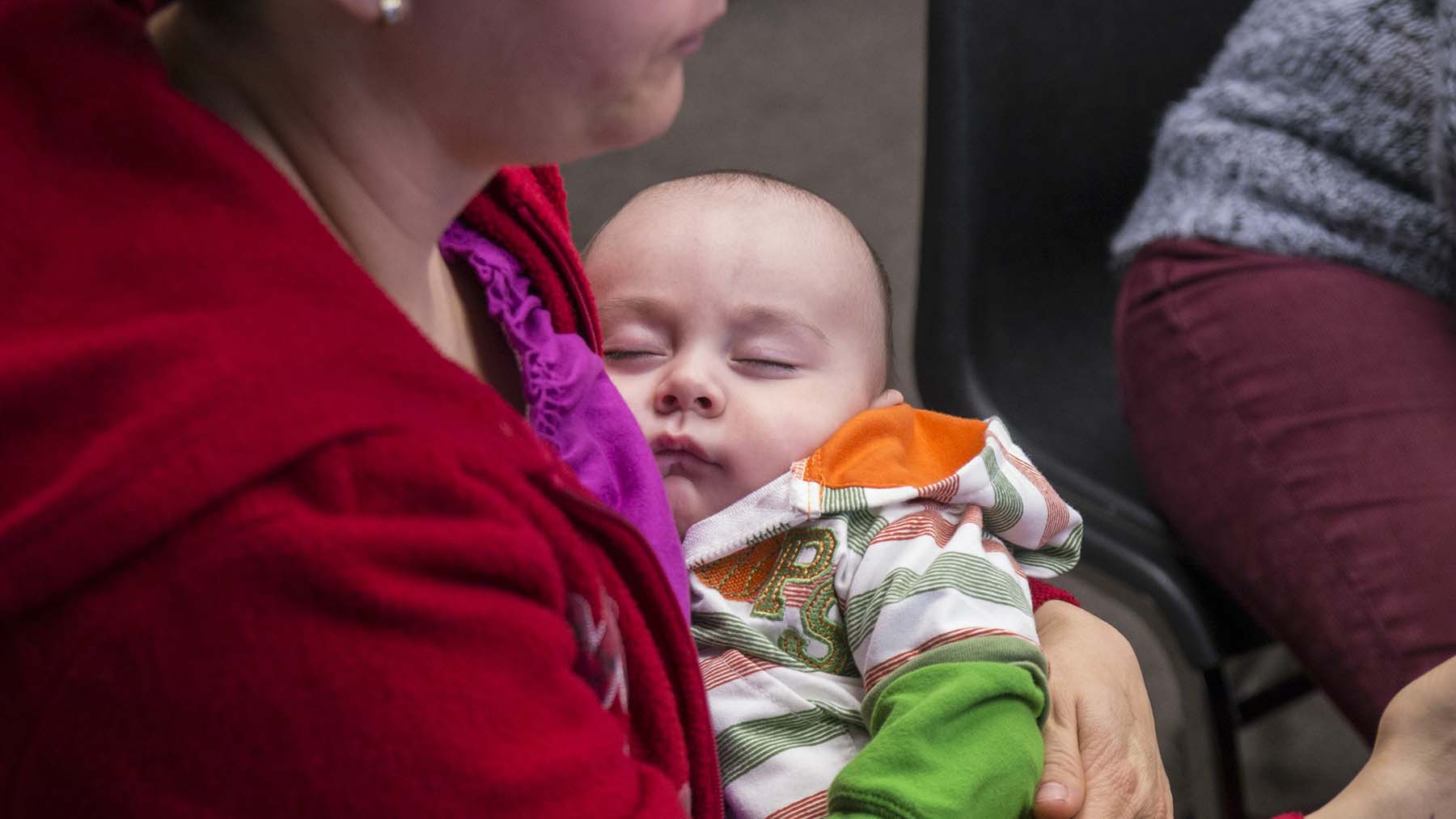 10 Helpful Products for Parents with Disabilities
Parents with mobility disabilities have products and resources available to them which are designed to help with everyday tasks such as moving, feeding, and diapering their babies
Raising kids is a lot of work. Babies require constant care—unless they are napping! According to the Centers for Disease Control and prevention (CDC), approximately 12% of adults in New Mexico age 18 and older have a disability that affects movement, from walking to moving objects with their hands.
Adaptive equipment can help you take care of your baby's daily needs. You may find it helpful to have some of these products handy once your little bundle of joy arrives. Here are 11 devices to consider for different parts of your baby's day.
Snuggle Time
1. Chest harness baby sling
Versatile and one-size-fits all, babywearing wraps are a safe way for you to get tasks done while keeping your baby comfy and cozy. You also can use a sling to carry your baby hands-free or while breastfeeding. They are usually safe to use from birth to 18 months.
Follow the wearing instructions on the package. Many of them work like this: Fold it like an X behind you, then bring it forward to make an X in front of you. Tie it with a double-knot. Then place your baby in the front part of the wrap, making sure your baby is sitting straight up and securely. If you've place it correctly, you should be able to comfortably kiss the top of the baby's head.
Slings can be helpful if you have limited arm mobility or use a wheelchair. The device also can help you get used to your baby's signals, such as the need to rest or be active.
2. Snugglebundl
Safely pick up or lay down your baby with this baby lifting and transfer blanket. It's made with two convenient handles and a built-in head support, which makes it easier to move the baby. It's a helpful option for parents with limited arm mobility or a bad back. New moms might also use this device to help with lifting the baby while recovering from a cesarean section (C-section).
Feeding Time
3. Two-sided nursing pillow
This firm but supportive pillow raises baby up to nurse or bottle feed comfortably. It positions your baby naturally and provides support for a parent's back. One side of the pillow is plush for comfort, and the other is made of contoured foam for support.
Although these pillows are comfortable, never allow your baby to sleep or lie unattended on a nursing pillow. If babies roll and press their face into the pillow, they may not be able to breathe.  
4. Over-the-shoulder bottle feeder
These devices hang over your shoulder like a half-apron, making one-handed bottle feedings easier. Position the feeder just below either shoulder. Place the bottle in the pocket. This allows you to feed your baby, hands-free. As a bonus, these feeders are simple to clean.
Do not leave the baby alone with the bottle propped in the holder. The baby could choke or have digestion problems.
Related Reading: 6 Uncomfortable Questions People Ask During Pregnancy
Learn how to respond to insensitive questions and situations throughout pregnancy
Changing Clothes and Diapering
5. Clothing with velcro or magnetic snaps
Zippers and buttons can be particularly challenging for parents with limited hand or arm strength. If you get a favorite outfit with a zipper, try adding a keychain ring to the pull to make it easier to maneuver. For bibs or outfits with buttons, button hooks can help. A wire looping tool—available at most retail or craft stores—narrows at the tip, locking the button in place and making it easier to pull through the buttonhole.
6. Adjustable changing tables
Standard changing tables aren't always at a comfortable height. Ergonomic, stable and adjustable changing tables can be accessible for parents who use wheelchairs and those with back pain. This can make it much easier to change baby's clothes or diapers. Some tables can be mounted against the wall for even more stability.
Traveling Safely with Baby
7. One-hand folding and steering stroller
Parents can safely steer these lightweight strollers with one hand. Once you're done taking your baby for a walk, you can fold the stroller with a quick, one-handed motion. Read the instructions carefully—some strollers have to be positioned just so to avoid accidental fold-ups.
8. Car seat with one button release
Many car seats require pressing two buttons simultaneously, which can be frustrating. Car seats with only one button in the center are easier to click into place, adjust and release. Talk with your health care provider about the best car seat choice to keep your baby safe and make your daily life easier. 
Related Reading: Ask these five questions to choose your pregnancy care provider
Learn how to choose a health care provider you are comfortable with and trust
Bedtime
9. Co-sleeper cots
Bedside cribs and cots are safe for a sleeping baby and convenient when bending and lifting is difficult for parents. These devices attach directly to your bedframe so your baby can safely sleep next to you, but not in the same bed.
These handy devices reduce your need to go to get fully out of bed or go to another room to care for your baby at night. Some devices have attached, lockable wheels to easily move the device when not in use.  
10. Video baby monitors
A high-resolution display baby monitor can help you keep an eye on your baby, even from a separate room. Some offer night vision and sound detection features. To keep your baby safe, never place a monitor inside or at the edge of the crib. Keep all cords at least three feet away. Do not only rely on the monitor—go into the room and check on your baby if you are concerned.
As a new parent, you'll have a lot on your plate. Ask your health care provider about tips and resources to make daily life easier. We can help you find community resources to get the support you need close to home.
You are the parent your baby needs. Continue to adapt to what works for you and your baby. Together, you'll find a balance of what works best for you and your family.
To find out whether you or a loved one might benefit from Ob/Gyn care