Day 3 - Community Questions
LGBTQ+ and Diversity
Meet Elizabeth
Meet Elizabeth who graduated from UNM with a BA in Theatre, and went on to earn her MFA in Screenwriting from Stephens College. She writes in many mediums and genres, primarily LGBTQ+ and BIPOC love stories written for large and small screens.
Writer
of LGBTQ+ and BIPOC stories
Elizabeth's Journey
Elizabeth, a member of the LGBTQ+ community, recently got vaccinated
What was her experience like?
Was she treated any differently for being queer?
What information was needed to get vaccinated?
Watch as Elizabeth shares her experience getting vaccinated.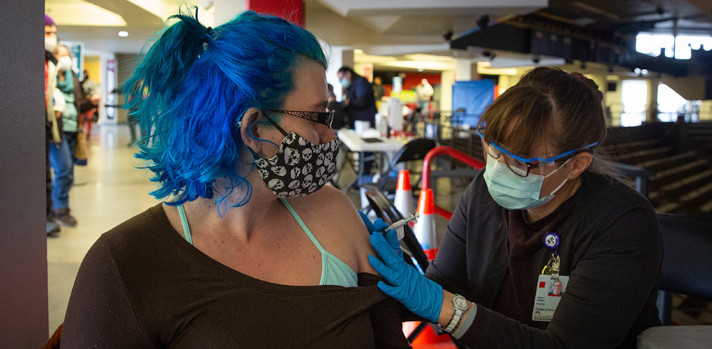 KOB Phone Bank
KOB4
Our live phone bank with our partner KOB has concluded. Thank you for all your calls and we look forward in your participation with getting New Mexico vaccinated.
Meet Frankie Flores
Frankie is the Director of the LGBTQ Resource Center at UNM, C4 Chair for Equality New Mexico and drag queen Lola La Bruja. What was their vaccination experience like?
Should queer people get vaccinated?
The research they have done 
Their own experience and privacy going to get vaccinated
Common Myths
MYTH: You Will Be Asked About Your Immigration Status
No one is asked about their immigration status. No immigration information is collected. Immigration is staying away from vaccination clinics. Anyone is eligible for a vaccine.
MYTH: No Biligual Services
We have translators available. Let us know if you have questions or if you need a translator. Register for your vaccine on the NMDOH website in English, Spanish or Vietnamese.
MYTH: You Need Insurance
The COVID-19 vaccines are 100% free for everyone, with or without insurance. If you have insurance, you may be asked to show your health insurance card. If you do not have insurance, you will still receive the vaccine for free.
Get a Vaccine
UNM Health will be vaccinating patients at The Pit at the University of New Mexico.
To register for a COVID-19 vaccination, visit The New Mexico Department of Health website.