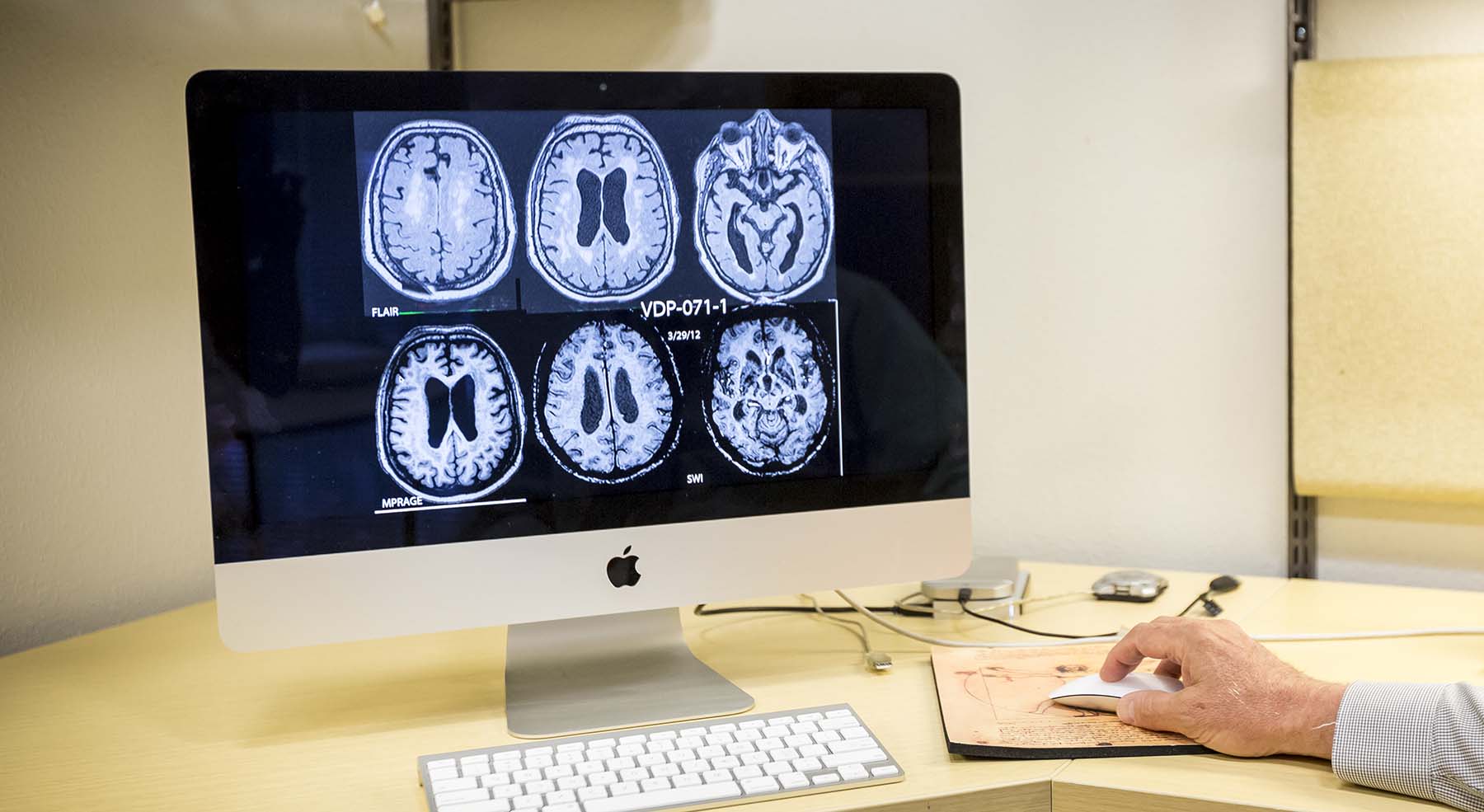 By Clotilde M. Hainline, MD
Patient-Centric Multiple Sclerosis Care: How Our Trainees Blend Innovation & Personal Attention
One of the top reasons that trainees flock to UNM HSC Neurology—is our patient-centric approach to training future MS experts. Our trainees partner with some of the nation's foremost MS experts to provide holistic care in one of the most culturally diverse patient populations in the U.S
One of the key reasons I decided to join the UNM Health Sciences Center Department of Neurology in 2019 was the opportunity to dive into an unmatched breadth and depth of multiple sclerosis (MS) research opportunities.
Ours is one of the most highly developed MS research programs in the U.S. Here, residents, fellows, and faculty work side-by-side in clinical trials to test the efficacy and safety of new and evolving MS therapies.
Research is exciting, but the main reason I love our MS program—and one of the top reasons that trainees flock to the UNM HSC Department of Neurology—is our patient-centric approach to training future MS experts. Our trainees partner with some of the nation's foremost neurology experts to provide holistic care in one of the most culturally diverse patient populations in the U.S.
We are the only specialized MS clinic in New Mexico. And as the state's only academic medical center, UNM Health is a major referral center for patients with the most complex neurological conditions and extensive MS needs from across New Mexico and from surrounding states.
MS damages the myelin coating around nerve fibers in the central nervous system. This damage disrupts how the brain, spinal cord and body send and receive messages, resulting in problems with muscle control, vision, mobility, energy levels and nerve sensation.
Since MS is a progressive disease, patients tend to see a consistent, trusted team of providers throughout their lives. We collaborate to keep the disease at bay and minimize symptoms to improve patients' quality of life. That level and duration of care requires a deep, trusting, personal relationship that can be achieved only by prioritizing each patient's unique goals and circumstances.
Patient-centricity is at the heart of our elective/outpatient subspecialty MS training. Adult Neurology Residency Program trainees learn the cutting-edge science and technological advances in real-time, and we circle back to customizing those learnings based on a patient's goals—beyond general health, and encompassing their personal passions, career goals and more.
Are you a patient seeking MS care? Ask your provider for a referral to our MS Clinic.
Patients at the Center of Scientific Innovation
Most patients are diagnosed with MS between ages 20 and 50, and there is currently no cure. Emotions run high, and these young patients worry what their future might hold—or what they might miss out on because of their condition.
We train our residents to empathize with those very real concerns and get to the root of what matters most to the patients: Do they have children already, or want them? What industry do they work in, or where do they hope to work one day? What are their favorite hobbies?
We use this information to customize a treatment plan that helps them achieve a higher quality of life that allows them to pursue and achieve their goals. Our trainees and providers help patients see that MS is a part of them, but it certainly does not define who they are.
Conducting Personalized Exams for MS
MS is a tricky condition. Often, patients with early-stage MS look and act fine on the surface, while a host of neurological turmoil builds beneath the surface. They look fine…until they don't.
The examination for MS requires faculty and trainees to possess a close attention to detail for the science behind the disease. Providers must be exceptionally mindful of a patient's cultural and personal preferences, as well—we must get very close to patients and touch them during the exam, which requires excellent communication and a trusting patient-provider relationship.
Crucial elements of the MS exam include:
Vision exam:

I am also a neuro-ophthalmologist, so I teach trainees to pay close attention to the cranial nerves. MS can rob patients of their sight—the optic nerves to the eye should be pink and healthy. If the nerves are pale, the MS may be affecting their vision. We also look for unexpected eye motions, such as jerking when the movement should be smooth, which can indicate MS-related brain damage.

Mobility testing:

We watch patients walk, if they are able, to gather information about their neurological status in terms of balance, coordination, strength, and sensation. This simple test gives neurologists a lot of information about the patient's disease status.

Musculoskeletal and sensory exam:

This exam looks for reduced strength (often in one side of the body) and sensation, as well as spasticity. A frequent early, asymptomatic finding on MS patients can be a reduced ability to detect vibration.
Additionally, we have deep conversations about other less visible symptoms, such as bladder issues, fatigue, sexual dysfunction and trouble remembering or thinking clearly. Then, we pair this information with our understanding of the patient's personal lifestyle.
Our trainees actively participate in patient care, making their own observations, examining imaging and partnering with patients and faculty supervisors to create a personalized treatment plan.
Applying Research Innovations in Patient Care
The MS research program at UNM Health Sciences Center is one of the most well-developed neurology research facilities. We continually offer a multitude of ongoing clinical trials, giving patients advanced treatment options that are not yet widely available. Our trainees are heavily involved in the clinical trial process, from conducting laboratory research and performing data analysis to improve patient care.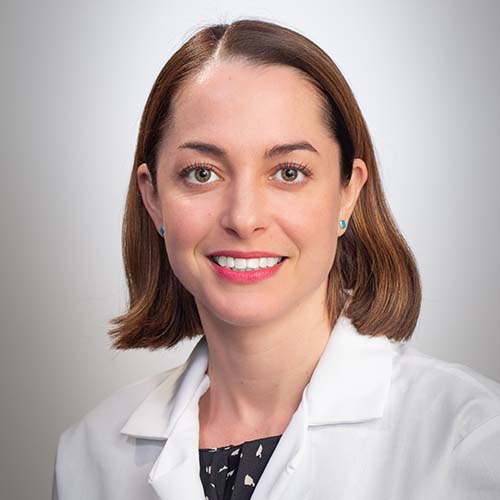 As an academic medical center, we are on the cutting-edge of the latest MS research innovations around the world. We use that knowledge to provide the safest, most effective treatment plan that works for a patient's condition and life goals.
—
Clotilde Hainline
, MD
As an academic medical center, we are on the cutting-edge of the latest MS research innovations around the world. We use that knowledge to provide the safest, most effective treatment plan that works for a patient's condition and life goals.
For example, more than 70% of patients with MS are women who could become pregnant. If a patient wants to have a baby, we can design a fertility-sparing treatment plan to effectively manages her symptoms. And for patients who live far from the hospital, we can design a plan that requires less travel for therapy—including IV medication given at UNM Health just twice a year.
Advanced MS Treatment Options
Many of the MS therapies UNM Health Sciences Center residents and providers offer are game-changers for patients. Science and quality of care has evolved whereas patients with MS are living longer, healthier and more mobile lives than ever before.
Rehabilitation is key in increasing energy and improving mobility and communication skills. Many patients rely on pain management strategies, from medication to behavioral health care, to feel more comfortable day to day. Most patients with MS also take medication that specifically targets the immune system to reduce relapses and disease progression in multiple sclerosis.
MS medications can be taken orally, intravenously or via self-injection. We offer the full range of medication options at UNM Health in addition to cutting-edge therapies through clinical trials.
We want patients to feel comfortable reaching out to us when they notice a new or worsening symptom. The quicker we can identify what is wrong, the faster we can adjust their medication or order additional testing to improve their care. 
Specializing in multiple sclerosis requires a passion for forming deep patient relationships, as well as a love for conducting neurological examinations and a desire to master the art and science of investigating symptoms and tracking down brain lesions.
There is beauty providing care for such a terrible disease as MS. When our faculty and trainees partner with patients in their care, we can help them reclaim their quality of life and restore feelings of hope for their future.
Curious About our Multiple Sclerosis Training?
Schedule a call with JJ Maloney, Medical Education Program Manager for the UNM HSC Department of Neurology.