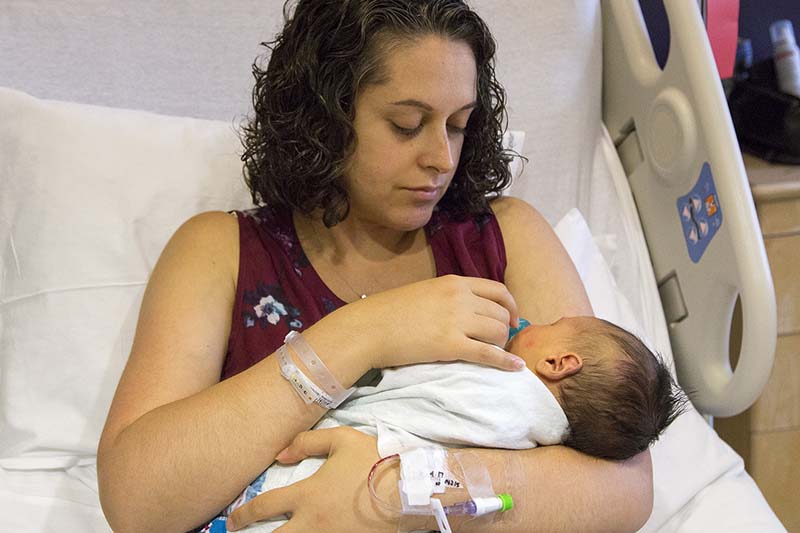 By Anna Stryker, CNM
Learn How to Spot Postpartum Depression Symptoms with our Free ROSE Program
To help prevent postpartum depression, the UNM Midwifery team offers a free training course called the ROSES Program
When you have a baby, your body goes through a lot. It affects you physically, mentally, and emotionally. Around 70-80% of women get the "baby blues." These women may feel emotional for a few days or weeks after giving birth, which is normal.
However, 10-20% of new moms develop very bad feelings of sadness and anxiety—a serious condition called postpartum depression (PPD). PPD can cause many scary symptoms, such as:
Brain fog

Feeling helpless or worthless

Inability to do normal daily tasks

Insomnia

Intense, lasting sadness and/or anxiety

Loss of interest in the baby

Numbness

Physical pain (back aches, headaches, upset stomach)
These same symptoms can happen with other health problems. So, it can be hard to identify PPD on your own, especially with a new baby at home. Women are more at risk for PPD if they don't have easy access to health care.
PPD usually starts within the first couple weeks after childbirth. However, it can start up to one year after delivery.
Any patient can develop PPD. Young moms, women with Native American or Alaska Native ethnicity, and women with a history of depression are at high risk for PPD. Having low income or a lot of stress at home can also increase the risk.
Without treatment, women with PPD may develop clinical depression or hurt themselves or their babies. It's important for you and your family to learn how to spot signs of PPD.
To help, UNM Women's Health offers a free PPD-prevention class—the ROSE Program—to teach pregnant moms and their partners what symptoms to look for and how to get help.
What is the ROSE Program?
ROSE stands for:
Reach

Out

Stay strong

Essentials for mothers of newborns
The UNM Health ROSE Program is part of a larger ROSE Sustainment (ROSES) Study. The study is helping midwives and doctors learn how to better teach pregnant women about postpartum depression symptoms. Early data shows that PPD education can reduce cases of postpartum depression in the U.S.
What Should I Expect at UNM's ROSE Program?
The ROSE Program is a free program taught by the UNM Midwifery team. ROSE is one class a week that meets for 1.5 hours, with two to eight women per class. To join, ask your midwife or OB/GYN provider for an invite to an in-person or virtual class.
Topics we will discuss include:
Differences between the baby blues and PPD.

How to reduce stress during and after pregnancy.

Ways to reduce the risk of PPD.

Finding loved ones for social support.
ROSE is open to anyone who wants to learn about PPD. We recommend completing the class before 36 weeks of pregnancy. New moms can also benefit from this program.
Watch this ROSE Program Video
Explore the UNM Women's Health ROSE Program
If you think you may have postpartum depression, call your doctor or midwife right away. Postpartum depression can be treated with counseling, medication, hormone therapy and getting help at home. Don't wait until your next regularly scheduled appointment – we are always ready and available to help you.
To find out whether you or a loved one might benefit from Ob/Gyn care