By Project ECHO Communications and Marketing Staff
Future Prospects
On World Hepatitis Day, Dr. Sanjeev Arora Sees Opportunities For Better Diagnostics and Greater Access to Treatment
Nearly two decades ago, Sanjeev Arora, MD, started Project ECHO with a simple mission: he wanted New Mexicans, who lived in rural areas, to have access to the best-possible treatment for hepatitis C. And it worked.
In recognition of July 28 World Hepatitis Day 2022, we spoke with Arora, a Distinguished Professor of Medicine at The University of New Mexico, about the current state of hepatitis C treatment around the world and Project ECHO's future role in helping to eradicate the disease, which causes serious liver damage.
Since Project ECHO started in 2003, prospects for treating hepatitis C have vastly improved, Arora says. Today, the highly effective new antiviral treatments are "almost perfect," he says. "They're almost completely effective and safe."
Primary care physicians used to hesitate to prescribe earlier forms of treatment because of risky side effects, but that is no longer the case, he adds. There are still serious obstacles in gaining access to care, however.
"Now, there is a knowledge explosion problem," Arora says. "Primary care clinicians must take care of a hundred different disease areas. It is almost impossible for them to keep up with the latest literature on all these areas and knowledge bases of all diseases."
Providers tend to focus on the most common diseases they see—such as diabetes, hypertension, thyroid disease—and refer other cases out to specialists, creating a bottleneck for treatment, he says.
Project ECHO made a lasting impact on hepatitis C care in New Mexico, but there is still work to be done. More than 70 million people are living with hepatitis C around the world, but fewer than 15% have received treatment, he says. Most of the undiagnosed patients reside in low- and middle-income countries.
"This presents ECHO with an opportunity to make a big difference in the world," Arora says. "By setting up ECHO networks in these countries, patients who would otherwise have no chance to get hepatitis C diagnosed, can get the condition assessed and treated. If we set up ECHO-like networks there, and provide access to treatment for all, there will be a huge impact – literally millions of lives will be saved."
While hepatitis C medications are among the most cost-effective treatments available in many of these countries-often totaling less than $100 for an entire course-the price for testing is still out of reach for many.
With an estimated 50% of hepatitis C cases worldwide going undiagnosed, Arora calls for the development of a "low-cost, easy test that doesn't require a blood draw" to enable more widespread screening and connecting patients to treatment.
"It's not conceivable that every physician knows how to treat hepatitis C, but it is conceivable that in every community, there are one, two or three physicians who become experts and serve their whole community," he says, recapitulating Project ECHO's founding mission.
"Knowledge grows with sharing," Arora says. "My hope is that the ECHO Model can be an example of how, by democratizing knowledge and best practices, we can make a good beginning in creating a more equitable world."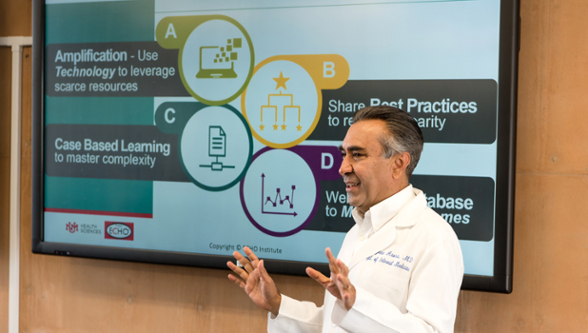 Want to Learn More About ECHO?
The ECHO movement is changing and saving lives across the globe.