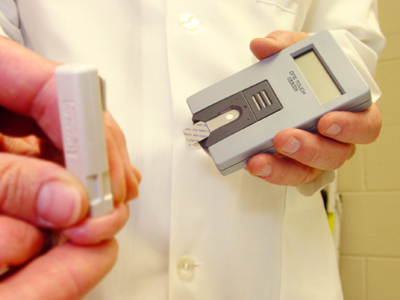 By Project ECHO Communications and Marketing Staff
Project ECHO Gives New Mexico's Diabetes Patients Hope
More than 10 years ago, Jessica Kirk, an endocrinology nurse manager at the University of New Mexico Health Sciences Center, sat on her couch sobbing at 3 a.m. 
She recalls the pleading email to her doctor: "I'm miserable. I can't continue like this," she wrote. "Some days I can't even get out of bed. I feel so alone and overwhelmed." 
She felt like she had reached an all-time low with her diabetes and was barely coping.  
The doctor never replied to that email. And when Kirk went in for her next appointment, he never brought it up. 
Instead, he told her what patients living with diabetes hear all too often: "You need to check your blood sugar more. Eat better. Take your insulin more regularly. Exercise. If not, you'll end up blind, on dialysis and very sick." 
Kirk remembers feeling like she was doing everything she was supposed to: seeing a specialist regularly and following instructions. Yet, her blood sugars soared out of control and her kidneys showed signs of disease. She was warned that she faced total blindness within a year. 
At 23 years old, Kirk was supposed to have her whole life ahead of her. Instead, she was afraid she wouldn't live to see 30. 
She decided to become a nurse and a diabetes educator so that she could tell patients what nobody had ever told her: they were not alone in their struggles and better care was out there.  
That's how she discovered Project ECHO and joined its mission to share best-practices and knowledge in rural and underserved communities. Through ECHO, Kirk saw that things could change for patients that were in the same position she was in. 
ECHO offers a holistic approach to diabetes treatment that Kirk had needed but never received when she was 23. ECHO providers synchronize diabetes care, mental health resources and social support in one place, showing patients multiple strategies to treat diabetes and giving them hope for the future.  
For people with diabetes, this is a huge breakthrough; their treatment is informed by a range of professionals, resulting in solutions much faster. 
"Being a patient in Endo ECHO is life-changing. It's the care I wish I had gotten," Kirk said.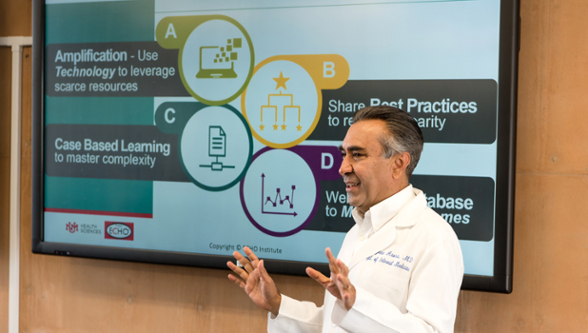 Want to Learn More About ECHO?
The ECHO movement is changing and saving lives across the globe.
The ECHO Model also makes experts more accessible to patients in rural and underserved areas. 
Normally, patients see a primary care clinician for preventive services and everyday health problems and when they need other types of care, they have to see a specialist.  
Because of a nationwide shortage, specialists are often only located in large cities and may have a months-long waitlist. 
The ECHO endocrinology program works with providers at health centers across the state to help them become experts in diabetes management, making that specialized care accessible to patients in their local communities. 
Kirk understands the need for local expertise more than anyone. She grew up in Cloudcroft, New Mexico — a five-hour trip to see specialists in Albuquerque. Every three months, her family got up before the crack of dawn to make that five-hour drive for the doctor's appointment and then return home the same day. 
"If I'd had Endo ECHO as a kid, we wouldn't have had to do that," she said. "The specialized care management I needed would have been available to me right in Cloudcroft from my primary care provider." 
Since 2003, Project ECHO's telementoring model is being used to tackle the world's greatest challenges in health care, education and more. Headquartered at The UNM Health Sciences Center in Albuquerque, N.M., Project ECHO is empowering local community providers to improve the well-being of people around the world.  Join us today, in our mission to touch 1 billion lives by 2025.