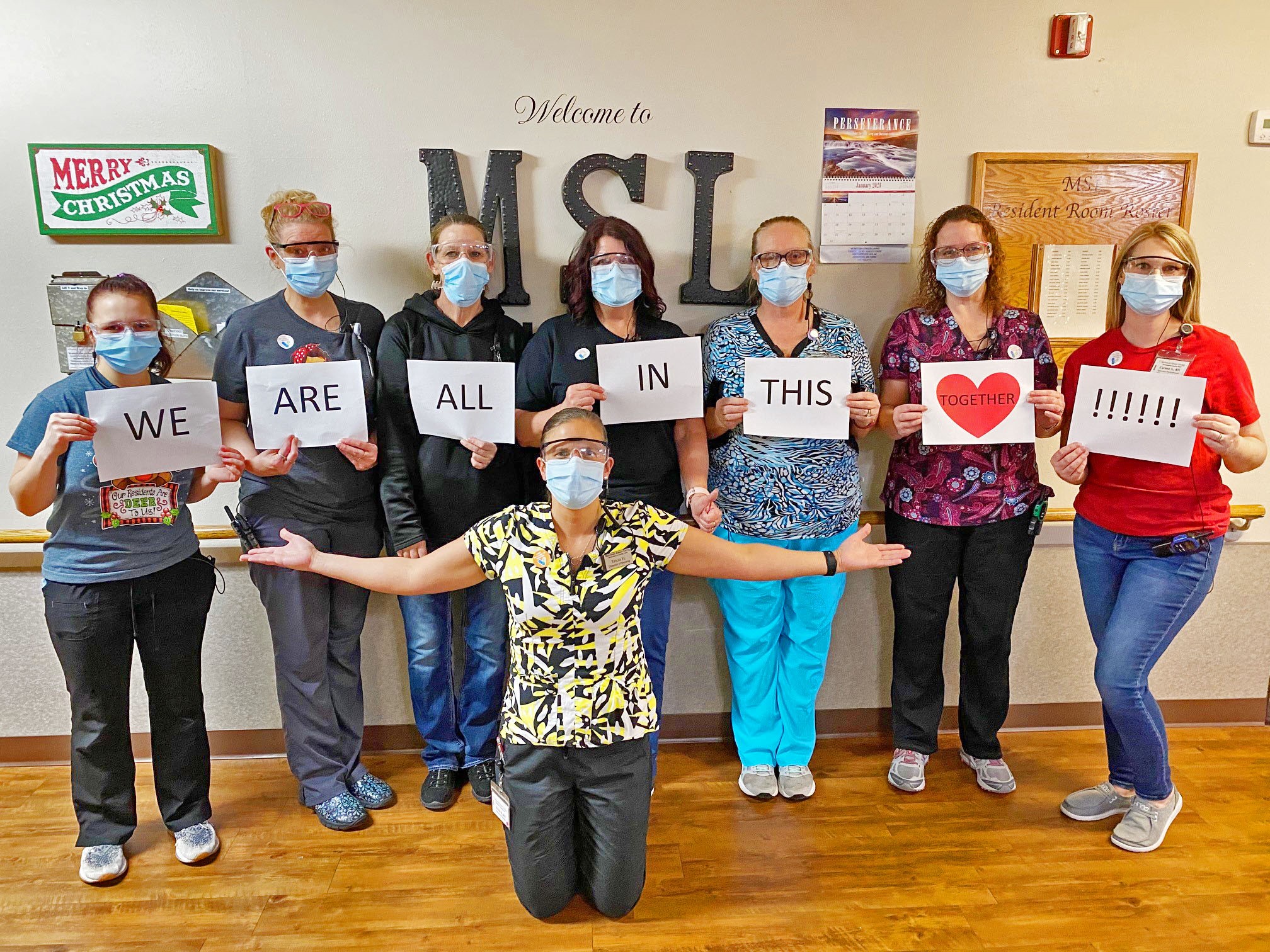 By Project ECHO Communications and Marketing Staff
The Power of Sharing
How Project ECHO and AHRQ Launched a Virtual Nationwide Learning Community to Combat COVID-19 in Nursing Homes
When the National Nursing Home COVID-19 Action Network launched in October 2020, it became the nation's most ambitious – and comprehensive – effort to reduce and prevent the spread of COVID-19 in nursing homes.
At the time, COVID-19 was surging across the country, disproportionately affecting people living and working in nursing homes. More than one out of five deaths from COVID-19 were in nursing homes. Administrators found themselves deluged with information from multiple sources – some of it conflicting, some of it wrong – while struggling with rising numbers of sick residents and worsening staff shortages.
More than 9,000 nursing homes from all 50 states, Washington D.C., and Puerto Rico joined the Network, a partnership of the Agency for Healthcare Research and Quality (AHRQ), Project ECHO and the Institute for Healthcare Improvement (IHI).
Over 10 months, thousands of nursing home staff participated in a virtual community where they received mentoring, technical assistance and critical peer support.
Training centers in every state hosted thousands of virtual sessions, bringing hundreds of experts together with nursing home teams to solve problems specific to the pandemic and improve infection control and prevention.
"What's remarkable to me about the Network is that, in the midst of a pandemic, nearly two-thirds of the nation's 15,000 nursing homes recognized the value of being part of a learning community," said Sanjeev Arora, MD, founder and director of Project ECHO. "Every week, they gave their time and their energy to learn, share and connect with each other. They did this because of how much they care for the safety of their residents and their workers."
The Network's reach showcases the power of collaboration during a public health crisis. It leveraged public health leadership with quality improvement expertise and a proven model for scaling health expertise in local communities. With the ECHO model, participants engage in a virtual community with their peers where they share support, guidance and feedback. 
Equally important was the dedication of nursing home leaders and staff to doing everything in their power to protect their residents. The Network also engaged the strong support of stakeholders representing the nursing home community, including the National Association of Healthcare Assistants (NAHCA), LeadingAge, the American Health Care Association (AHCA) and The Society for Post-Acute and Long-Term Care Medicine.
A Quick Turnaround During a Public Health Crisis
Together, these partners supported the most intensive infection prevention and control initiative that most nursing homes had ever engaged in. In less than two months, 99 training centers – mostly academic health systems and quality improvement organizations – launched to mentor staff from thousands of nursing homes. Staff from up to 35 nursing homes participated in each training center cohort.
Foundational to the Network's programming was a standardized, 16-week curriculum – developed by IHI in consultation with ECHO and AHRQ – based on the latest evidence. IHI continually updated the curriculum to reflect new evidence and address new, emerging issues. Using the ECHO model was an ideal way to quickly and consistently deliver the latest information to participants located in nursing homes throughout the nation.
Training centers across the country delivered this curriculum to participants using the ECHO model. Each session kicked off with a brief presentation on a timely topic, such as PPE use, and moved on to real-life problem-solving with discussion in small-group breakouts and via the chat function. Experts in infection control and gerontology staffed these sessions.
In addition, IHI provided quality improvement coaches who worked with participants in each cohort to apply practices not only for COVID-19 control but across all their work. The coaches walked participants through the process of how to identify an area in need of improvement, set an aim, get buy-in and alignment, test changes on a small scale, measure improvement and learn from each test.
"At IHI, we have the privilege of building networks of health care providers and service delivery organizations. Never in our 30-year history has such a massive network – more than 9,000 nursing homes – been brought together in such record time. For many nursing homes, this was their first formal training in quality improvement," said Kedar Mate, MD, IHI's president and CEO. "IHI was proud to collaborate in applying not only the best of clinical medicine, but also in dissecting the latest data, guidance and regulations as they were issued, and helping to connect critical individuals and organizations."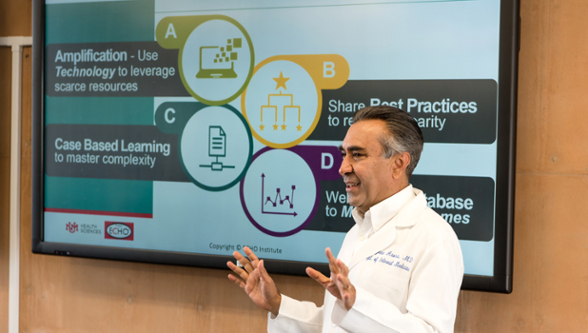 Want to Learn More About ECHO?
The ECHO movement is changing and saving lives across the globe.
An Environment Where All Teach, All Learn
Everyone – experts and nursing home staff alike – participated in the sessions, sharing with and learning from each other.
And, equally important, they supported each other during a time of tremendous stress.
"Working at nursing homes during this pandemic, so many of us feel like we're carrying the weight of the world on our shoulders, with hardly any support. The stress takes a terrible toll," said Jane Davis, administrator of Landmark Care and Rehabilitation, a 93-bed skilled nursing facility in Yakima, Wash. "[The Network] was a place where I felt supported. My staff and I were not alone – far from it. Being in the Network reinforced that we truly are all in this fight together."
Throughout the 10 months of the Network's operation participants learned many lessons together and shared many successes.
In Wagner, S.D., Whitney Podzimek, administrator of Good Samaritan Nursing Home, had heard of bamlanivimab ("BAM" for short), a monoclonal antibody therapy approved under emergency use authorization by the U.S. Food and Drug Administration for patients at high risk for developing severe COVID-19. She learned more about the therapy during a Network session. When COVID-19 hit Good Samaritan in December 2020 – infecting 30 of its 40 residents – Wodzimek and her team had already developed a plan with Wagner Community Memorial Hospital down the street for administering BAM therapy.
The nursing home and hospital worked together. After being administered BAM therapy, nearly all the residents recovered, including two who were over 100 years old and others with serious comorbidities like lung cancer.
Peer Sharing Leads to Visitation Checklist Solution
Many lessons came not only from session didactics but from nursing homes trying to help one another. For example, when Tanner Carson, RN, infection preventionist at Avamere Rehabilitation of Eugene, Ore., mentioned during a breakout discussion that she was concerned about how to manage reopening the facility for visitation with only one rotating staff monitor, a peer from a nursing home offered a simple solution: Why not make a step-by-step checklist for the staff monitor to use before, during and after each visit?
That's exactly what Carson did. The checklist she created outlines all the steps involved in receiving, screening, instructing and monitoring visitors at Avamere.
"It's such a great idea," Carson said, adding that the new tool has helped ensure safety during resident visits while making monitoring easier and less stressful for staff.
"We often underestimate the value of learning from others," observed AHCA executive director David Gifford. "The Network helped establish the relationships needed for people to better learn from each other The Network wasn't only about hearing the latest evidence from the experts – a major benefit was learning from peers who were going through a similar experience."
The Network also encouraged participants to take a creative approach to problem-solving. Rachel Shearer, executive director of Ignite Medical Resorts-Adams PARC, in Bartlesville, Okla., was troubled when she learned that patients in the 50-bed skilled nursing facility's COVID-19 isolation unit weren't eating. Some patients were sending back their food trays virtually untouched, and some were even losing weight – even though the facility's food is top-notch.
When Shearer thought about it more, she realized that the Styrofoam plates and plastic utensils used in the isolation unit were probably unappealing to residents. And the Styrofoam didn't keep food hot, either.
Her solution: Swap out the Styrofoam and plastic for real dishes and silverware to boost resident morale and appetite. Although it sounds simple, the intervention took a lot of work, especially while maintaining COVID-19 safety practices. 
It was worth the effort, though. People ate more and regained the weight they'd lost. They complimented the food, even though it hadn't changed.
Shearer shared the success of the dinner service intervention during a Network cohort discussion on rapid-cycle improvement, where it attracted a lot of interest. Her team used a plan-do-study-act implementation approach they learned from their IHI coach that allowed them to assess and fine-tune their intervention.
The Network did a great job of disseminating important information, we had so much information coming from so many different places that it felt overwhelming at times. As administrator of a facility, that central dissemination was very helpful.
—
Katie Reeves
, Administrator of Fauquier Health Rehabilitation & Nursing Center
A Powerful Lesson in Empathy
For direct care workers – especially certified nursing assistants (CNAs) – the COVID-19 pandemic has brought stress, loss, isolation, trauma and increased demands at work and at home. Many CNAs have worked long and grueling hours because of staff shortages. Providing mental and emotional support to staff was an issue that came up frequently during Network sessions.
For Biljana Stojadinovic, administrator of the Emerald Peek rehab center in Peekskill, N.Y., the most important lesson she learned from participating in the Network was empathy. A presentation on worker stress was "eye-opening," she said, because it helped her, as an administrator, better understand what CNAs were experiencing and how to respond to them. It's a lesson she put into action by using empathetic listening in her conversations with workers and by making small changes in the facility, like converting the hair salon into a relaxation spa for employees, who made good use of it.
In addition to providing a platform for mentoring, coaching, peer sharing and continual feedback, the Network served as a critical information hub during a time of great confusion and constantly changing circumstances.
"There was a lot of misinformation out there, and we got many questions from people about things they heard on the news or on social media," said Kathy Duncan, RN, an IHI director and Network quality improvement coach. "The clinical people on our team were excellent at bringing everything down to earth and explaining the facts."
"The Network did a great job of disseminating important information," agreed Katie Reeves, administrator of Fauquier Health Rehabilitation & Nursing Center in Warrenton, Va. "We had so much information coming from so many different places that it felt overwhelming at times. As administrator of a facility, that central dissemination was very helpful."
The Network also reviewed, developed and made available 177 tools and resources to help nursing homes navigate the pandemic. These included quality improvement tools, best practices and guidelines like Staffing during the COVID-19 Pandemic: A Guide for Nursing Home Leaders, developed by IHI with industry leaders, and Invest in Trust: A Guide for Building COVID-19 Vaccine Trust and Increasing Vaccination Rates Among CNAs, created by the Center for Public Interest Communications (CPIC) at the University of Florida in collaboration with Project ECHO.
The guides address two critical issues that have plagued nursing home leaders during the pandemic: how to recruit and retain staff, especially direct care workers, and how to talk with CNAs about the COVID-19 vaccines. In both cases, acknowledging, listening to and responding to the concerns of direct care workers were key.
"Nobody cares what you know until they know that you care," said Lori Porter, NAHCA's co-founder and executive director. "Bringing CNAs into the vaccine conversation, sitting down with them and listening respectfully to their problems and fears, and then addressing their problems and fears appropriately –those are all signs of caring."
In fact, to develop the Invest in Trust guide, CPIC sought out the voices and experiences of CNAs – those vaccinated and those still making up their minds about the vaccines. Built on insights from social, behavioral and cognitive science and CPIC's primary research, the guide outlines practical and effective approaches for nursing home leaders to help build CNAs' trust in the COVID-19 vaccines and includes practical tools and other resources that nursing home leaders can adapt to their own settings.
The Network finished its cohort sessions in September – a bittersweet conclusion, as the rise of new COVID variants means the work is not over, and nursing homes must maintain vigilance.
"Hopefully, the work that we've accomplished together with these 9,000 nursing homes will continue to inform the work that lies ahead," Arora said. "We hope, too, that the people who participated in the Network will stay connected with their peers at other nursing homes and remember the power of freely sharing knowledge and support with each other."
Several Network participants have said that, even though the Network sessions have come to end, they plan to participate in ECHO nursing home programs operated by their former training centers. Davis is among those participants.
"It was a great experience, and I will continue with the University of Washington ECHO calls," Davis said. "The Network has been a place where you learn and grow. Sometimes it reinforces you are already doing things right. You build relationships with other administrators and nursing directors, and you don't feel like you're alone. It has been really important at a time like this."