Dr. Melissa Ivers
Associate Chief Medical Officer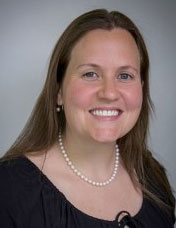 Dr. Melissa Ivers graduated from dental school from the University of Pennsylvania and came to UNM in 2009 to complete her residency. Upon graduation, she was asked to the join the faculty in the Department of Dental Medicine and in future years assumed roles in her department as Faculty Practice Director and Program Director over the residency program.
She is involved in a myriad of responsibilities outside her department including serving as the Chair of the Physician's Advisory Group (PAG), sitting on the Surgical Services Operations Committee (SSOC) and is involved in the Mission Excellence Oversight Council and Advisory Group. She has served as a faculty senator and HSC Council member as well as a patient safety and compliance officer. She also takes a keen interest in physician wellness with a focus on efficiency of clinical practice.
Locally, she serves on the board of directors for New Mexico Health Resources (NMHR). She is New Mexico's representative for the National Health Service Corps (dental division). She also serves nationally for the American Dental Education Association (ADEA) as the section Chair for Postdoctoral General Dentistry (PGD) and a delegate for the Council of Hospitals and Advanced Education Programs (COHAEP).
In addition to her dental degree, Dr. Ivers graduated from UNM's Anderson School of Management with an MBA with honors. Her concentrations were in finance, accounting and organizational development. She was in the first cohort of the Medical Leadership Academy at UNM and has participated in many local and national physician leadership and business conferences. She is a lifelong student and looks forward to completing other educational pursuits in the future.
Outside of work, you can find Dr. Ivers engaging with her three boys (twin 5-year olds and 10-month-old) and enjoying the many local craft beers and delicious wine of New Mexico and other regions. She loves the balloons and mountain landscape. Her favorite activity is traveling with her family as it allows her to meet new people while celebrating the languages, cultures and food around the world.